DON'T GET ME STARTED has me hearing so many positives for the Buffalo Bills when they face those highly disliked New England Patriots Monday. So many friends are hurtling out the words ...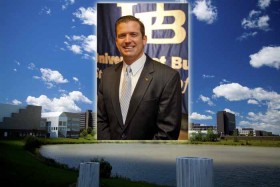 DON'T GET ME STARTED admits that I felt joy when I heard the News that Danny White will be leaving for the A.D. job at the University of Central Florida. From the ...

DON'T GET ME STARTED had me coming down on NHL Commissioner Gary Bettman for a quarter of a century. When I was on the air on radio and television, I kept urging ...

DON'T GET ME STARTED had my first thought feeling that the Kansas City Chiefs were playing the Thursday night game against the Jets. Then the announcers stated that it was the Bills ...

DON'T GET ME STARTED is ready to give a team drafting ahead of them an offer they can't refuse so that Buffalo can snare quarterback Paxton Lynch of Memphis if he comes ...

DON'T GET ME STARTED remembers the titled quote in the 1800s by Elizabeth Barrett Browning. Back in January, it was "How do I Love thee: – but 7 games into the season, ...

DONT GET ME STARTED started to hear the words, "The honeymoon is over for Rex Ryan." All the hoopla, the euphoria before a play was ever run in early September is being ...

DON'T GET ME STARTED watched in dis-belief as I observed the New York Giants beat the Buffalo Bills 24-10 that includes one of the worst first half performances I can recall. For ...

DON'T GET ME STARTED already turns sour on this season after only two games played. An off season of hoopla when Rex Ryan became the head coach of the Bills shows that ...

DON'T GET ME STARTED would like people to call up last week's Don't Get Me Started column on this site – allsportswny.com. The column I wrote gave the 3 prescriptions Buffalo needed ...
Next Page »