Rashad Evans
Rashad Evans is a UFC fighter and former UFC light-heavyweight champion. Evans is native of Niagara Falls New York and a graduate of Niagara Wheatfield high school and undoubtedly the most famous wrestler to come from the highly touted Niagara Wheatfield high school wrestling program.
Rashad Evans is one of eight children and was a two-time All-State wrestler at Niagara Wheatfield, placing 4th in New York State as both a Junior and Senior.
Rashad Evans was also a two-way player on the school's Championship football team, playing running back when on offense and safety on defense for Hall of Fame Coach Armand Cacciatore.
After graduating from Niagara Wheatfield in 1998, Rashad Evans went to Niagara County Community College in Sanborn New York. Evans wrestled for Hall of Fame Coach Eric Knuutila and was a two-time NJCAA All American and the National Junior College champion at 65 lb (75 kg) in 2000.
Rashad Evans then transferred to Michigan State University, competing in the 174 lb (79 kg) weight class.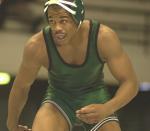 RashadEvans was a starter at Michigan State for two years and amassed a 48–34 record during that time. Rashad Evans was also one of only four people to ever defeat wrestling legend Greg Jones.
Since graduating from Michigan State and earning a degree in psychology, Rashad Evans has taken up residence in Florida where he trains for his UFC bouts.
Rashad Evans won the second season Championship on the televised Ultimate Fighter show and was on his way to a career that would bring him to the top of the UFC. On December 27, 2008 at UFC 92, Rashad Evans faced champion Forrest Griffin for the UFC light heavyweight belt. Griffin controlled most of the first two rounds with effective striking and low kicks. In the third round, however, Evans caught a low kick and countered with a straight right hand that dropped Griffin. Evans followed Griffin to the ground and eventually managed to finish the stunned champion with ground and pound. With the victory, Rashad Evans became the new UFC Light-Heavyweight Champion.
Rashad Evans suffered a defeat in 2009, losing the belt to Lyoto "The Dragon" Machida. Evans rebounded however defeating Quinton "Rampage" Jackson in a unanimous decision at UFC 114 in the main event at the MGM Grand Garden Arena in Las Vegas.
Rashad Evan's next fight was a rematch against MMA veteran Tito Ortiz, a fighter Rasahd edged out in a narrow decision earlier in his career. On August 6th, 2001 Evans defeated Ortiz with a second period TKO after landing a vicious knee to Ortiz's solar-plexus.
On January 28th 2012 Rashad Evans won a unanimous decision over previously undefeated Phil Davis to set up a championship light heavyweight match against former sparring partner Jon Jones.That bout took place April 21st, 2012 and after much hype Jones defeated Evans in a tough five round battle.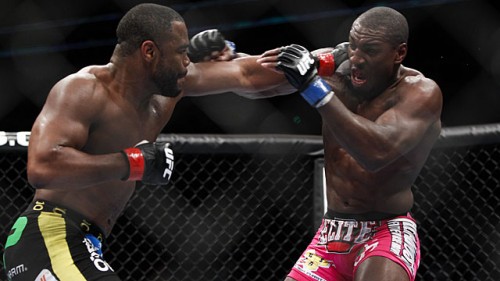 Evans has suffered numerous injuries over the past several years resulting in several bout postponements. Rashad dropped to middleweight and his last match he dropped a split decision to Sam Alvey on August 5th, 2017.