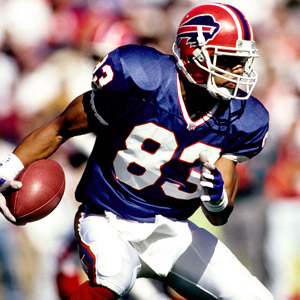 Andre Reed was one of the key weapons in the vaunted Buffalo Bills no-huddle offense of the 1990's. Number 83 led the Bills in all receiving categories and was known for his toughness and ability to run after the catch.
Andre Reed was drafted in the fourth round of the1985 NFL Draft by the Buffalo Bills, the 86th overall selection. Andre Reed played for the Bills for 15 consecutive seasons, from 1985 through 1999, during which he played in four Super Bowls for the Bills.
In 2000, Andre Reed signed a two year contract with the Denver Broncos in June but was buried on the depth chart behind Rod Smith, Ed McCaffrey, Robert Brooks and Travis McGriff.
Andre Reed eventually asked for his release from the Broncos after then Broncos Head Coach Mike Shanahan informed Andre Reed that he would be inactive for their 2000 season opener and wanted to make a more immediate contribution. He eventually joined the Washington Redskins and retired after the 2000 season
Andre Reed ranks near the top in nearly all NFL career statistical receiving categories. He went over 1000 yards four times in a 16 year career, is eighth in NFL history in total career receptions with 951 (behind only Jerry Rice, Cris Carter, , Isaac Bruce, Tony Gonzalez, Terrell Owens, and Marvin Harrison), ninth in NFL history in total career receiving yards with 13,198. Andre Reed is also eleventh in NFL history in total career touchdown receptions with 87.
Andre Reed also rushed for 500 yards and a touchdown on 75 carries. With the Bills, Andre Reed played in four consecutive Super Bowls (1991–1994) and was selected to the Pro Bowl in seven consecutive seasons (1988–1994).
Andre Reed set season career highs with 90 receptions in 1994, ten touchdowns in 1991, and 1,312 receiving yards in 1989. A tribute to his incredible physical durability, Andre Reed played in 234 NFL games between 1985 and 2000, the 59th most games played by any player in NFL history, including players in less physically demanding positions, such as kickers and punters.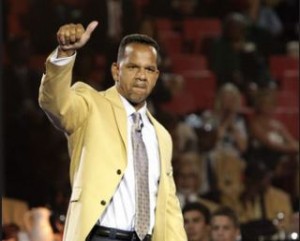 On February 1st, 2014 Andre Reed was elected into the Pro Football Hall of Fame and inducted on August 2nd in Canton Ohio.