Niagara County Community College Athletics has seen a resurgence in recent years, upgrading the program with full-time coaching positions and improved facilities. The plan began over ten years ago under then Athletic Director Lee Wallace and has been followed by his successor Bob McKeown and now recently appointed Amanda Haseley.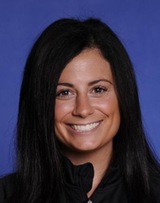 Amanda Haseley, had served as interim AD in 2017 and began her new role on Sept. 1 2018 She replaced Robert McKeown, who is now NCCC's Vice President for Enrollment Management.
"I want to thank interim President Dr. William J. Murabito, Vice President for Student Services Julia Pitman and the entire search committee for this tremendous opportunity," Haseley said. "I consider NCCC and the surrounding community home. I am fully committed to making NCCC the smart place to start for student-athletes.
"Our coaching staff at NCCC is second to none and I look forward to working with them as we climb toward the top of the region. I am confident that the future of NCCC athletics is very bright."
Over the past 10 years, Haseley has served NCCC in a multitude of roles including Spirit Faculty Advisor, Camp NCCC Director, Sports Information Director and Athletic Business Manager. She also has over 15 years of experience working with the Town of Niagara Recreation Department.
Haseley graduated from Niagara University with a bachelor's degree in English and a minor in communication studies. She is working toward a master's degree in sport administration from Canisius College. The Town of Niagara resident and her husband David have a son, Chase.
______________________________________________________________________________
NCCC wins 22nd Regional Title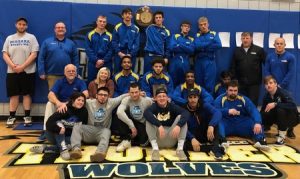 Host Niagara County Community College had eight finalists and three champions on its way to the Northeast District I Championship on Sunday afternoon. The title doubles as the program's 22nd Region III crown – by far the most among regional competitors. The Thunderwolves finished with 140.5 points, while runner-up Nassau Community College had 112.5 points. All eight NCCC finalists will advance to the NJCAA Championships, which are scheduled for March 1-2 in Council Bluffs, Iowa.
NCCC freshman Greg Quinn had two pinfalls to win the 125-pound title, sophomore Freddy Eckles went 3-0 with a pair of pins at 141 pounds and classmate Michael Phelps won a tight 10-4 match to bring home the 165-pound championship. Runners-up for NCCC included: sophomore C.J. Walz (133), freshman Katrell Jackson (149), freshman Anthony Bell (157), sophomore Sergio Crespo (184) and freshman Anthony Robinson (285).
NCCC head coach Keith Maute was named the Northeast District I Coach of the Year and Jamestown Community College's Dan Torres (174) earned the event's Most Outstanding Wrestler award.