Sal Maglie
Sal Maglie, also known as Sal "The Barber" Maglie (4/26/1917 – 12/28/1992) was a well known American Major League Baseball pitcher from Niagara Falls New York. Sal Maglie, born Salvatore Anthony Maglie, played from 1945-1958 for the New York Giants, Cleveland Indians, Brooklyn Dodgers, New York Yankees, and St. Louis Cardinals. Sal Maglie was also the lone pitcher to ever pitch for then all three New York city based baseball teams.
Throughout his career Sal Maglie was known as "Sal the Barber". Some speculated that Maglie earned the name because he gave close shaves, meaning he pitched inside to hitters. Others maintain that Maglie picked up the nickname because he always had a full days growth of beard when he pitched and sported a five o'clock shadow look.
Regardless of what he was called, Sal Maglie was an outstanding pitcher over his 10-year baseball career, with 119 wins, 862 strikeouts, and an 3.15 earned run average. Many feel that Sal Maglie would be in the baseball Hall of Fame today if he did not lose three years being banned from the majors for pitching in the Mexican league.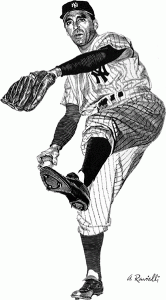 Sal Maglie broke into the major leagues with the Giants in 1945, but when he jumped to the Mexican League prior to the 1946 season then Commissioner Happy Chandler banned Maglie from returning to the Majors. It wasn't until 1949 that Chandler lifted the ban and allowed Sal Maglie to return and he was able to return to the Giants in 1950.
After his return, Sal Maglie was integral to the success of the New York Giant teams of the early 1950s. After a stint with Cleveland, Sal Maglie was purchased by the Dodgers in May 1956. Maglie had a sterling comeback season for the Brooklyn Dodgers in 1956 (who won the NL pennant by one game over the Milwaukee Braves and two games over the Cincinnati Reds), going 13-5 with 2.89 ERA, tossing a no-hitter on September 25. Sal Maglie finished second to Don Newcombe in the first balloting for the Cy Young Award, and was also second to Newcombe in MVP balloting.
Sal Maglie was the Dodgers' pitcher opposing Don Larsen of the Yankees in the latter's famous perfect game of the 1956 World Series. Maglie threw a five-hitter in the loss.

After two terms (1960–62; 1966–67) as pitching coach of the Boston Red Sox, Sal Maglie took a similar post for the expansion Seattle Pilots in 1969. Hall of Fame pitcher Don Drysdale credited Maglie with teaching him to pitch inside, for which he would be noted. Jim Lonborg, AL Cy Young Award winner in 1967 also learned to brush hitters back under instruction from Maglie.
Sal Maglie returned to his hometown of Niagara Falls and owned several businesses and was a well known celebrity in the region. When Maglie would go out to a local Niagara Falls restaurant he was usually inundated by well wishers, former school mates and friends.
After Maglie suffered a stroke in the mid 1970's the city held a banquet in his honor and over 1,000 people filled the Portage Post American Legion Hall in his honor. In attendance were former players and teammates Bobby Thomson, Minnie Minoso and Hall of Fame announcer Mel Allen.(see video below)
In 1983 then Hyde Park Stadium was dedicated as Sal Maglie Stadium in honor of the famous hurler. A video of the dedication was produced by Bob Koshinski and Fred Calandrelli and aired in Niagara County on then Niagara Frontier Cable. Koshinski submitted the feature to ESPN where it ran multiple times over a two day period. (see video below)