HAMBURG, N.Y. – The Hilbert College men's basketball program is set to host their 1st Annual Hawks Golf Classic on October 3, 2020. Head coach Rob deGrandpre and his staff invite alumni, family, friends, and ...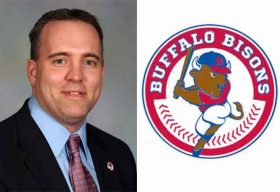 March 9, 2020 –Rich Baseball Operations today announced that Anthony Sprague has been named General Manager of the Buffalo Bisons. Approaching his 19th season with the organization, Sprague becomes just the third General ...

2020 means a new year, new decade and new seasons for our Buffalo sports teams. Unlike past years there will be no change in coaching and management for the Sabres and Bills ...

All Sports WNY would like to wish all readers and visitors to this site a very happy and peaceful Thanksgiving! It can be tough out there for many with the changing times, ...
Buffalo Bills Quarterback Josh Allen Q: What is it about how things just seem to click into a rhythm for you and, I'm talking about the two drives after the takeaways. I ...

The 2019 Niagara Falls Sports Hall of Fame inductions took place at the Como Restaurant on Pine Avenue in Niagara Falls Saturday, October 19th. A crowd of family and friends exceeding 250 ...

Celebrate the life and passion of one of the ballpark's and WNY's great citizens with an amazing event on Saturday, September 28 at Delaware Park, the first annual Marcy Dandes Memorial Family ...

Sanborn – Kennet Fosuhene has been named head men and women's soccer coach at Niagara County Community College. Fosuhene comes to NCCC after serving as the head men's soccer coach at Riverland ...

All Sports WNY salutes those brave men and women who gave up their lives for their country on this Memorial Day. Often athletes and coaches use war time references when referring to ...

Buffalo RiverWorks Brewing Company is proud to announce an exciting partnership with NHL legend Dominik Hasek for the release of its first ever canned beer, aptly named The Dominator! This classic Czech ...
Next Page »