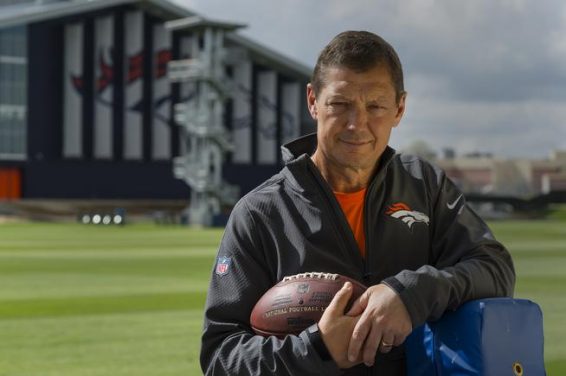 ORCHARD PARK, N.Y. — The Buffalo Bills have announced that the team has agreed to terms for Rick Dennison to become the team's offensive coordinator. Dennison comes to Buffalo after spending the ...
FOR IMMEDIATE RELEASE Friday, January 13, 2017 ORCHARD PARK, N.Y. – The Buffalo Bills announced today the team has agreed in principle for Leslie Frazier (defensive coordinator), Bob Babich (linebackers coach) and ...

Buffalo Bills Head Coach Sean McDermott Introductory Press Conference Friday, January 13, 2017 Opening Statements Terry Pegula: Welcome, thank you for coming out today as we announce the arrival of our new ...

ORCHARD PARK, NY – The Buffalo Bills today announced that Sean McDermott has been named the 20th head coach in team history. "We believe we have hired a smart, determined and hard-working ...

Sean McDermott has been hired as the Buffalo Bills' new head coach according to Jason La Confora of CBS Sports. McDermott was the Carolina Panthers defensive coordinator, his defense ranked in the ...

Buffalo Bills General Manager Doug Whaley Monday, January 2, 2017 Opening Statement: First off, Happy New Year. I want to thank you guys for taking time out of your busy schedule to ...

Buffalo Bills QB Tyrod Taylor Monday, January 2, 2017 Q: One of the biggest decisions the team has to make is on you. I know that during the season, you were always ...

Interim Buffalo Bills Head Coach Anthony Lynn Wednesday, December 28, 2016 Opening Comments: Alright. Well this last 24 hours, getting ready to beat this team and losing my good friend Rex Ryan, ...
Orchard Park, NY—Legendary NFL Special Teams coach Bruce DeHaven passed away this evening after a courageous battle against cancer. DeHaven, who started his coaching career in the 1970's in Kansas high schools, ...

ORCHARD PARK, N.Y. —Rex Ryan has been relieved of his duties as the head coach of the Buffalo Bills. Bills owner Terry Pegula said, "I spoke with Rex earlier today and we ...
Next Page »