Buffalo Bills HC Rex Ryan Tuesday, August 23, 2016 Opening Statement: Like we said, last day of training camp. Really, I tip my hat to St. John Fisher for doing a tremendous ...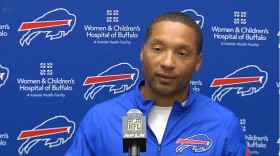 Buffalo Bills GM Doug Whaley Saturday, August 20, 2016 Opening Statement: Obviously, I've always said this is a performance-based business and the release of Karlos Williams was strictly performance based. He came ...

Buffalo Bills Owner/CEO Terry Pegula: Thank you everyone for showing up today. This is a memorable day for the Buffalo Bills, Bills fans, New Era, so we appreciate everyone coming out. I ...

DT Marcell Dareus Wednesday, August 17, 2016 Q: Marcell you released an apology on your Instagram account yesterday. What can you say about that? A: I really don't have much to say. ...

STATEMENT BY AN NFL SPOKESPERSON: "Marcell Dareus of the Buffalo Bills has been suspended without pay for the first four games of the 2016 regular season for violating the NFL Policy and ...

Buffalo Bills HC Rex Ryan Thursday, August 15, 2016 Opening Statement: On the injury front, obviously IK (Enemkpali) has a torn ACL and he's going to be out for the season. So, ...

Buffalo Bills Head Coach Rex Ryan Opening Statement: Man, there were so many positives in this game. It was exciting for me to see the way our guys competed. Obviously we didn't ...

The Buffalo Bills will be announcing this week that they have reached a new stadium naming rights deal with Buffalo-based hat company New Era. The Bills' stadium in Orchard Park has been ...

Buffalo Bills QB Tyrod Taylor Friday, August 12, 2016 Q: How exciting is this for you? A: I was very excited. Something that I worked hard for in my years in the ...

PITTSFORD, N.Y. – The Buffalo Bills today announced that QB Tyrod Taylor has a signed contract extension with the team. In accordance with team policy, terms of the deal were not disclosed. ...
Next Page »