East Aurora's Tyler Hall is the 2015 winner of the prestigious Ilio DiPaolo Scholarship. The 220 lb, New York State Div II finalist received the award and $2,500 scholarship on Monday, May 18th at DiPaolo's restaurant in Blasdell.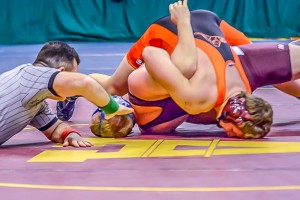 Tyler Hall set the Section VI record for pins this past season with 43 and finished his career with a 119-38 career record as the 220-pounder won his second straight Section VI championship.
The winner of the Gary Castanza award was Pine Valley's Alexander Kelly, a 182-pounder who was the Section Six Div II champion and had a 174-59 career mark.
Tonawanda's Cody McGregor won the Destroyer Wrestling Award named in honor of professional wrestler Dick "The Destroyer" Beyer. The 132-pounder went 232-32 in his career, including 45-3 his senior year and finished second in the 2015hool male athlete of the year, who also plays soccer and baseball, has applied to Niagara County CC, Mercyh
The Bill Hein Dedicated Wrestler Award went to Niagara Falls' Donny McCoy Jr. The two-time Section VI champion  posted a 46-6 mark as a senior and 189-46 for his scholastic career. The 120-pounder is the only Falls wrestler since 2000 to win more than one sectional title in his career.
Lockport's Kirkland T. Feeney received the Cauliflower Alley Club Award. The 152-pounder went 142-72 for his career and 35-7 as a senior.
The St. Francis football Captain's Award went to junior Johnathon Strawbrich. Strawbrich is the starting right tackle last season.
Dan Palumbo photo gallery below:
Filed under: High School Wrestling
Tagged with: high school wrestling, Ilio DiPaolo Scholarship, Tyler Hall