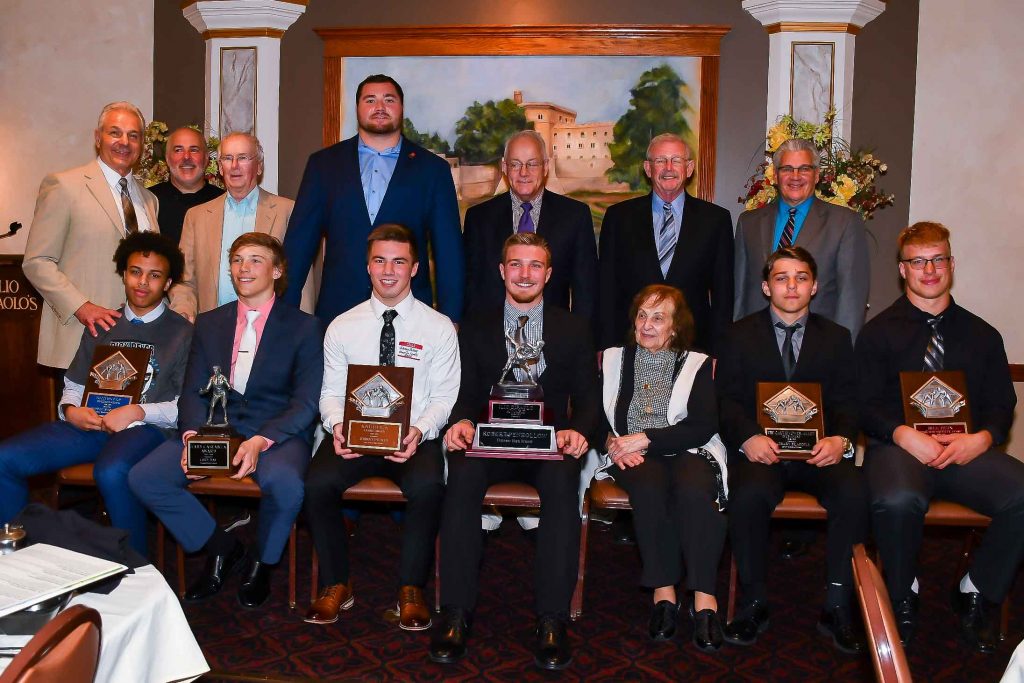 Robert Penhollow, a senior at Falconer high school, has been selected as the 2019 Ilio DiPaolo Scholarship winner. Penhollow claimed the Div II New York state 195 lb. wrestling championship in Albany this year and finished the season with a 49-1 record and a career mark of 168-31.
Penhollow was also the MVP of the Falconer football team in his senior year, a Class "C" 1st Team All-State linebacker, a member of the Honor Society, Scholar Athlete awardee at Falconer 2015-2019 and designated as a 2018 NYS Scholar of Excellence. Penhollow has applied to Edinboro college.
The Ilio DiPaolo Scholarship is awarded annually by the DiPaolo Scholarship Fund Committee to a high school senior based on excellence in wrestling, academics and citizenship.
The DiPaolo Scholarship Fund has raised over 1.2 million dollars for local charities and college scholarships since being created in 1995 after the passing of former professional wrestler and restaurateur Ilio DiPaolo.
In all the DiPaolo Scholarship Fund awards six scholarships including the Gary Castanza Award, The Destroyer Award, The Bill Hein Dedicated Wrestler Award, The Cauliflower Alley Club Award and the new Knuutila Family Award.
Harrison Phillips, defensive lineman for the Buffalo Bills and a Nebraska high school state champion was the guest speaker for the evening.
The Gary Castanza Award recipient for 2019 is Cory Day of Iroquois. Day was the Div II New York state 160 lb. champion finishing his season with a 44-3 record and a 238-50 overall career record.
Cory Day was also an all-star in football and baseball at Iroquois, a 2015-18 Student Government Body delegate, four-year Class Treasurer and a UNYTS Blood Drive Volunteer. Day has applied to RIT.
The Destroyer Award winner, named after the late Dick Beyer who passed away in March of 2019, is Warren McDougald of Niagara Wheatfield. McDougald was the Div I 152 lb. state finalist at the 2019 New York state wrestling championships in Albany in February and finished the season with a 40-4 record and career mark of 217 and 53.
McDougald is a three-time Div I state place finisher, a four-time Section VI Div I champion and a member of the Niagara Wheatfield Honor Society. McDougald has applied to the University at Buffalo.
The Bill Hein Dedicated Wrestler Award winner is Michael Rigerman from Pioneer high school. Rigerman is the 2019 220 lb. New York state Div II champion with a 43-0 undefeated senior season and a 137-24 career record. Rigerman is also a two-time Section Six Div II champion.
Rigerman was the 2018 Connelly Cup Award winner for football and has been on the Pioneer Central Honor Roll all four of his years at Pioneer high school. Rigerman will be attending Findlay University for Physical Therapy.
The Cauliflower Alley Club Award winner is Zachary Braddell from Tonawanda high school. Braddell is the 2019 Div II 138 lb. state finalist with a 42-4 season record. Braddell is three-time NYS place finisher and a four-time Section Six Div II champion. Braddell has applied to Niagara County Community College.
The Knuutila Family Award, created this year in honor of Linda Knuutila who passed away in December of 2018, is going to Johnny Putney of East Aurora high school. Putney is the 2019 New York state Div II 3rd place finisher at 152 lbs. with a 46-4 season record and 213-45 career record.
Putney is a member of the National Honor Society and will be attending RIT in the fall.
For more information on the DiPaolo Scholarship fund go to https://iliodipaolos.com/ilio-dipaolo-scholarship-fund/.
Filed under: High School Wrestling
Tagged with: Dick Beyer, high school wrestling, Ilio DiPaolo Scholarship, Robert Penhollow