Willie McDougald from Niagara Falls high school and the 2020 145 lb New York State Div I champion has been awarded the 2020 Ilio DiPaolo Scholarship. The annual scholarship, one of six awarded to senior high school wrestlers from Section Six by the Ilio DiPaolo scholarship committee, is given to a wrestler that has excelled in wrestling, academics and citizenship.
McDougald is a two-time New York state Div I champion and a three-time finalist with a glossy 243-17 career record. Willie has committed to wrestle for the University of Oklahoma coached by Roy-Hart's Lou Rosselli, a former two-time New York State champion and two-time NCAA champion.
Other scholarship award recipients are Ryan Forrest from Hamburg high school, the winner of the Gary Castanza award. Forrest is the 2020 Section Six 132 lb champion with a career record of 162-44 and has been accepted to 8 different colleges looking to major in bio-medicine.
Justin McDougald from Niagara Wheatfield (Justin and Willie are cousins). received The Destroyer award and is the 2020 NYS 138 lb Div I champion. Justin is a three-time state finalist and a five time Section Six champion with a 241-27 record and has signed to wrestle for the University at Buffalo.
Ryan Stencel from Lancaster received the Bill Hein award and has a 200-52 career record and is a 3-time NYS place finisher and 3-time Section Six champ.
Giovanni Schifano from Eden high school is the recipient of the Cauliflower Alley award and placed 2nd in the NYS Div II 160 lb weight class in 2020 with a 188-47 career record.
Finally, Blake Bielec from Grand Island was awarded the Knuutila Family scholarship. Blake is a 2-time Section Six 220 lb champion with a 144-29 career record and was a All WNY Football defensive player for Grand Island as well.
This is the 25th year for the Ilio DiPaolo Scholarship awards, named after the late professional wrestler and popular restaurant owner Ilio DiPaolo. A formal awards presentation will be held at Ilio DiPaolo's Restaurant in Blasdell after the Covid-19 restrictions have been lifted.
For more information on the Ilio DiPaolo Scholarships go to https://iliodipaolos.com/scholarship-awards-winners/.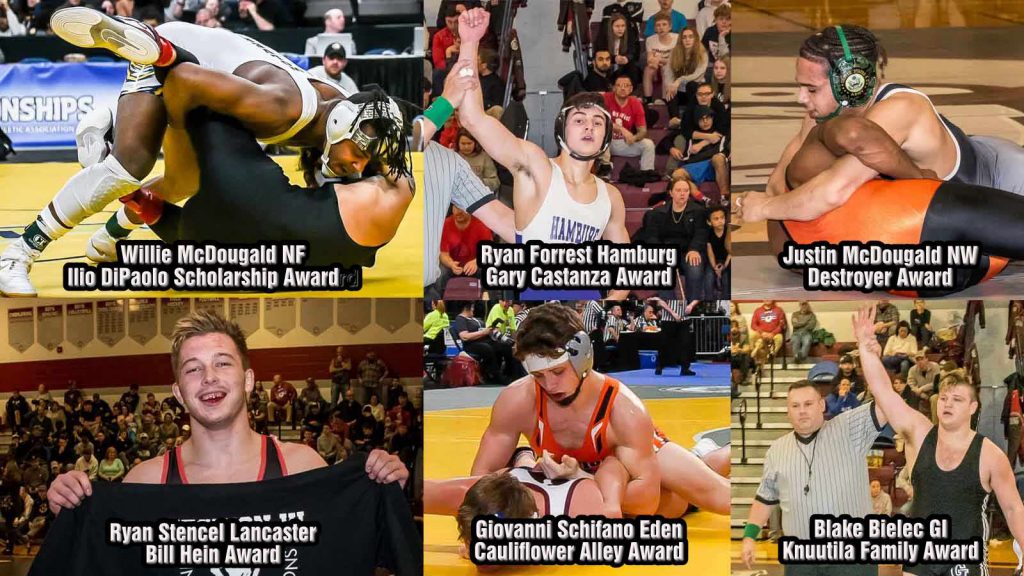 Filed under: High School Wrestling
Tagged with: Balke Bielec, Giovanni Schifano, Justin McDougald, Ryan Forrest, Ryan Stencel, Willie McDougald