WBBZ-TV's Buzzcon
The first annual WBBZ-TV Buzzcon was a smash hit at the Eastern Hills Mall. Buzzcon was put together by promoter Ted Hanes and featured sports memorabilia, comics, zombies and Bills alumni autographs the show was very well received by the thousands in attendance.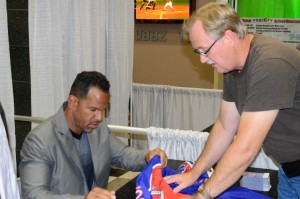 The hit of the show on Friday night was the appearance of Buffalo Bills all-time great wide receiver Andre Reed. Andre signed autographs from 7-9 PM and had hundreds of people stop by for a chance to meet #83. Reed has been among the final sixteen players for induction into the Pro Football Hall of Fame for the past three years and 2014 should finally be his year.
Also Friday night the Eastern Hills Mall was over taken by Zombies provided by "Terror Technologies". "Terror Technologies" does professional zombie makeovers and the crew on hand Friday night were as friendly a group of zombies one could hope for.
On Saturday the show featured three all-time greats in their own respective fields. From the Buffalo Bills NFL Hall of Fame player Joe Delamielleure was on hand to sign autographs from 12-2 PM. Joe "D" still looks like he could play the game and is in phenominal shape for a 62 year old man.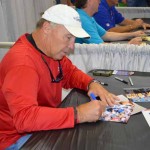 Also from the Buffalo Bills was number 12, Joe Ferguson. Fergy was one of the finest quarterbacks ever to play for the Bills in the 1970's and 80's and looks great after a very serious health scare. Joe Ferguson was in town along with DeLamielleure and Reed for the Buffalo Bills Wall of Fame celebration.
From the world of professional wrestling "The Destroyer" Dick Beyer was in attendance and signed autographs for his many fans. Dick also promoted his autobiographical book and the famous "Destroyer" bobbleheads.
The many vendors who brought their sports and comic memorabilia had a great two days and can't wait for Buzzcon II coming in 2014.
Filed under: Local Headlines
Tagged with: Andre Reed, Buzzcon, Joe DeLamielleure, Joe Ferguson. Dick Beyer, The Destroyer, WBBZ-TV