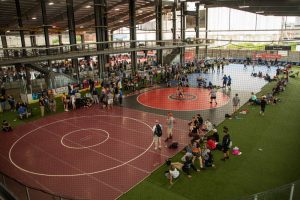 Team X Blue from Warsaw claimed the second annual Ilio DiPaolo's Nickel City Duals at Buffalo RiverWorks Saturday June 2nd. Team X defeated Canandaigua in the overall Gold Bracket title match, the second straight year the Warsaw squad won the outdoor tournament.
Twenty-four teams participated in the now annual tournament which is organized by Section Six coaches association and sponsored by the Ilio DiPaolo's Scholarship Fund.
Iroquois won the the Silver Bracket finals match with Niagara Falls taking the Bronze finals.
Filed under: High School Wrestling
Tagged with: Buffalo RiverWorks, high school wrestling, Ilio DiPaolo's Nickel City Duals, Section Six Coaches Association, Team X Blue