January 30, 2015 -The Buffalo Bisons organization is deeply saddened to learn of the passing of the team's first manager at Coca-Cola Field, Rocky Bridges. He was 87 years old.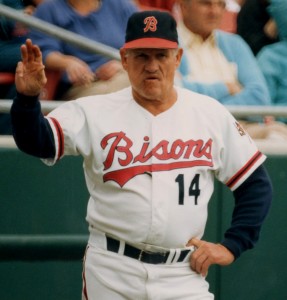 Everett Lamar 'Rocky' Bridges died on Wednesday, January 28 in Coeur d'Alene, Idaho as reported by the Coeur d'Alene Press.
Bridges managed the Herd in 1988 during the team's first season at then-named Pilot Field. The Bisons went 72-70 and finished in 3rd place in the American Association Eastern Division while surpassing the million fan mark in total attendance.. The 1988 Bisons featured Buffalo greats Dorn Taylor, Rick Reed, Tom Prince, Benny Distefano and Orestes Destrade.
Rocky Bridges played 11 years in the major leagues from 1951-1961, with the Brooklyn Dodgers (1951-52), Cincinnati Reds (1953-57), Washington Senators (1957-58), Detroit Tigers (1959-60), Cleveland Indians (1960), St. Louis Cardinals (1960) and Los Angeles Angels (1961). In 919 career games, the infielder hit .247 (562-2,539) with 80 doubles, 11 triples, 16 home runs and 187 RBI. He was an American League All-Star with Washington in 1958, posting a .263 average and 22 extra-base hits in 116 games.
Filed under: Buffalo Bisons
Tagged with: Buffalo Bisons, Rocky Bridges