The long wait is finally over, the Buffalo Sabres drafted BU's Jack Eichel with the second pick of the 2015 NHL Draft.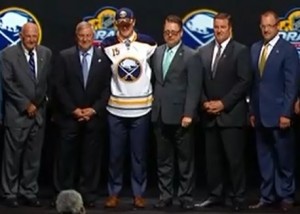 As a freshman at Boston University, Jack Eichel won the Hobey Baker Award, leading all NCAA Division I skaters with 71 points (26-45—71) in 40 games. He is just the second freshman to earn the award and first since Paul Kariya led the University of Maine to the national championship in 1992-93.
Among the other accolades Eichel earned in 2014-15, he was named Hockey East Player of the Year, Hockey East Rookie of the Year, the Tim Taylor Award as the nation's outstanding freshman and was the only unanimous first-team Hockey East All-Star selection.
Skating for the U.S. at the 2015 World Championship, Eichel finished third on the bronze medal-winning squad with 2-5—7 in 10 games. That included the overtime goal with 28 seconds remaining in a 5-4 victory over Slovakia in the preliminary round.
Filed under: Buffalo Sabres
Tagged with: Buffalo Sabres, Jack Eichel, NHL Draft, Tim Murray