Rocco Russo from Frontier High School is the 2014 recipient of the Ilio DiPaolo Scholarship Award. Russo wrestled at 138 lbs. for Frontier in his senior year with a 52-4 record and a fourth place finish at the New York State High School Division I wrestling championships.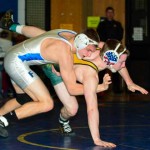 Russo finished his career at Frontier with a 237 and 33 record, two state place finishers, four Section 6 Championships and a 94.5 GPA. Russo plans to further his wrestling career at the University at Buffalo in the fall.
Other winners of the 2014 DiPaolo Scholarships are Alex Smythe of Eden winning the Gary Castanza Award, Renaldo Rodriguez-Spencer from Cheektowaga winning the Dick Beyer "Destroyer Award", Marshall Taylor from Lockport winning the Bill Hein Award and Ryan Kromer from Lew-port winning the Cauliflower Alley Club Award.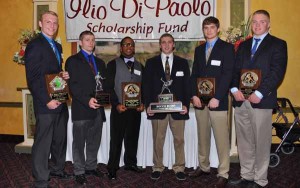 The presentations took place Monday night, May 19th at DiPaolo's Restaurant in Blasdell.
Ilio's Scholarship Award info with bios
Filed under: High School
Tagged with: ALex Smythe, high school wrestling, Marshall Taylor, Renald Rodriquez-Spencer, Rocco Russo, Ryan Kromer