BUFFALO, N.Y. (August 21, 2014) — The Buffalo Sabres and the Erie Otters today announced plans for the Otters to host the Niagara IceDogs in an Ontario Hockey League (OHL) game at First Niagara Center on Wednesday, Oct. 22, at 7 p.m. The Erie Otters star player is Connor McDavid, expected to be the 2016 NHL Draft number one pick and future superstar.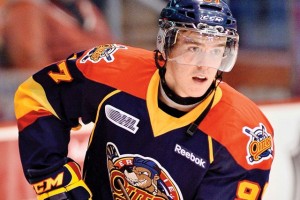 "The Sabres organization has made a real commitment to develop and grow hockey at every level," said Sabres president Ted Black. "This will be a great chance to give the OHL a bigger platform to showcase their exciting brand of hockey. We are looking forward to a great game between the Otters and IceDogs and expect a great crowd to be on hand here in Buffalo."
Tickets for the game will be on sale at 9 a.m. on Sept. 13 and can be purchased at the First Niagara Center box office or online at Tickets.com. Prices for 100-level and 200-level seating will be $15 and $10 for Sabres season-ticket holders.
"First off, the Erie Otters are thrilled to have the opportunity to work with a first-rate organization like the Buffalo Sabres," said Sherry Bassin, general manager and managing partner of the Otters. "This is an exciting moment for hockey fans in Buffalo and our fans in Erie. They'll have the chance to see the hockey stars of tomorrow play in a future NHL home like First Niagara Center. It's a special opportunity for the Ontario Hockey League, as a hockey town like Buffalo will provide great exposure for the top junior hockey league in the world."
Filed under: Buffalo Sabres
Tagged with: Buffalo Sabres, Connor McDavid, Erie Otters, OHL