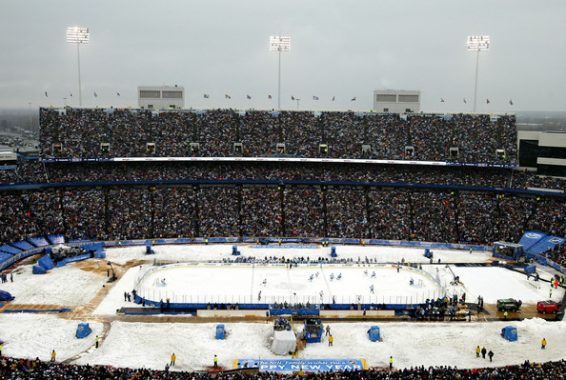 FOR IMMEDIATE RELEASE / MAY 9, 2017 NEW YORK (May 9, 2017) – The 2018 Bridgestone NHL Winter Classic® will feature the Buffalo Sabres® and New York Rangers® on Jan. 1, 2018 at ...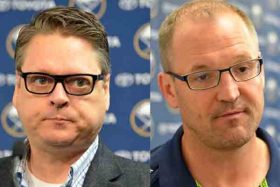 BUFFALO, N.Y. (April 20, 2017) — Buffalo Sabres Owner Terry Pegula has issued the following statement: "After reviewing the past season and looking at the future of our organization, Kim and I ...

BUFFALO, N.Y – The U.S. and Canada will make history when the two rivals battle outdoors on Dec. 29, 2017, in a preliminary round game of the 2018 International Ice Hockey Federation World ...

Buffalo Sabres rising star Jack Eichel injured his ankle in practice Wednesday morning when his skate became entangled with Zemus Girgenson. "I was just trying to get the puck, and we got ...

BUFFALO, N.Y. (October 11, 2016) — The Buffalo Sabres today announced the team has signed defenseman Rasmus Ristolainen to a six-year contract with an average annual value (AAV) of $5.4 million. "Rasmus ...

BUFFALO, N.Y. (June 24, 2016) — The Buffalo Sabres selected forward Alexander Nylander (Mississauga – OHL) with the eighth overall pick of the 2016 NHL Draft at First Niagara Center. Nylander (6'1", ...

LAS VEGAS (June 22, 2016) – The National Hockey League announced today the 2015-16 NHL All-Rookie Team, including the three players voted as finalists for the Calder Memorial Trophy as the League's top ...

BUFFALO, N.Y. (June 21, 2016) — The Buffalo Sabres and the NHL today announced the team's 2016-17 regular-season schedule. The variable ticket pricing designations for individual home games will be released at ...

Speculation by many, including yours truly, that the Pegula's would start their own regional sports network when the current MSG expired proved to be just wishful thinking as it was announced that ...

(Rochester, NY) – Buffalo Sabres General Manager Tim Murray announced today that Dan Lambert has been named Head Coach of the Rochester Americans, the American Hockey League affiliate of the Sabres. Randy ...
« Previous Page
—
Next Page »