February 3, 2022 -Minor League Baseball today announced that the Triple-A regular season has been extended by six games, with three home games added to the Buffalo Bisons schedule.
The Herd's previous season-ending series against the Rochester Red Wings, Sept. 19-21 has been extended to include games at Sahlen Field, Thursday, September 22 (6:05 p.m.), Friday, September 23 (6:05 p.m.) and Saturday, September 24 (1:05 p.m.). The Bisons will now end the regular season with a three-game series in Scranton/Wilkes-Barre, September 26-28.
If all games are completed, the Bisons will play 150 regular season games for the first time since going 80-69-1 during the 1964 International League season.
The Bisons 2022 season begins on Opening Day, Tuesday, April 5 against the Iowa Cubs at Sahlen Field (1:05 p.m.). All season ticket, ticket packages and group outings are now on sale at Bisons.com, including the Bisons 'Season Starter Pack' which includes a ticket to the first 12 games of the season for only $54 (76% OFF). A full 2022 promotional schedule will be announced in the near future.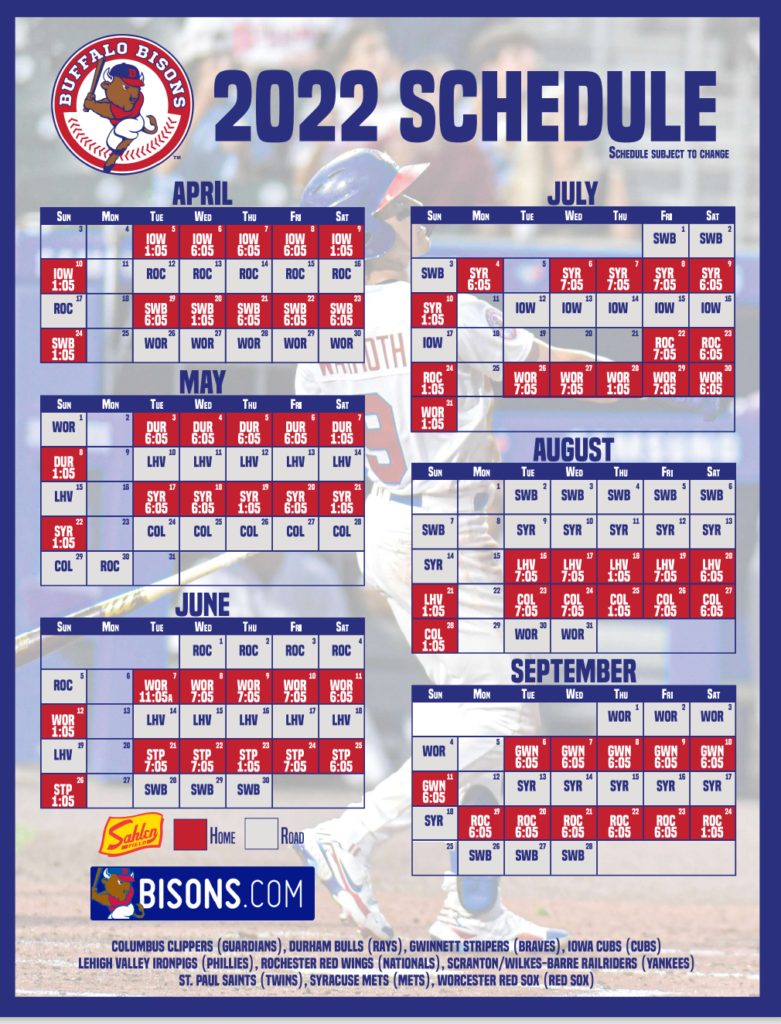 For more information, contact:
Brad Bisbing – (bbisbing@bisons.com)
Pat Malacaro – (pmalacaro@bisons.com)
Filed under: Buffalo Bisons
Tagged with: Buffalo Bisons