If one is ever concerned about the future of today's youth, a night at the Ilio DiPaolo Scholarship Awards dinner will go along way in easing your fears. Each year the DiPaolo Scholarship Committee awards five scholarships to senior high school wrestlers and a St. Francis football captains award. The process of evaluating the thirty-some applicants and then narrowing the field down to one ultimate winner and four other worthy recipients can be gut wrenching.
Wrestling is one of the toughest sports to compete in and for a high school athlete it can put quite a drain on academics. Many wrestlers have to "suck" weight and for some it can be well over ten pounds. To be constantly hungry, tired and still pay attention in class is a feat not shared by all, but the DiPaolo Scholarship winners pulled it off in style.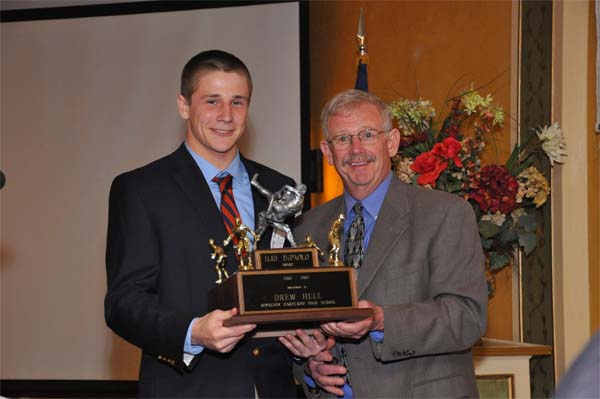 The DiPaolo Scholarship winner for 2013 is Drew Hull of Roy-Hart. Hull had a 95 average, was a member of numerous clubs and volunteered for many worth while causes. Oh yea, he was also a New York State Champion at 145 pounds and earned a scholarship to Virginia University. This Drew Hull is one very special guy.
Over the eighteen years of being a member of the DiPaolo Scholarship Committee I have read hundreds of amazing applications and have left many a meeting feeling bad that some of these great students had to be eliminated in the process. Having three sons who all wrestled and still managed to keep up their grades I remember just how hard that is.
This year's dinner featured the usual cast of DiPaolo supporters like Jim Kelly, Booker Edgerson, Jeff Nixon, Al Bemiller and Jim Overdorf of the Bills. There are also doctors, attorneys, sponsors, coaches, friends, family and all of Buffalo's media outlets in attendance. I think Dennis DiPaolo could hold a dinner in honor of it being a Thursday night and still fill the place.
After the tragic passing of Ilio DiPaolo in 1995 the concept of creating a scholarship in his name was pitched to Dennis and Mike DiPaolo by Bills Head Athletic Trainer Bud Carpenter and several players including Jim Kelly. A committee was formed which included friends of the Dipaolo's and several individual heavily into wrestling and the first dinner was planned. Now eighteen years and $800,000 later the event has become one of the premier athletic awards nights of the year in Western New York.
Proud to say I'm a small part of all this and that we're able to reward some of these great young men of today.
Filed under: Koshinski's Korner
Tagged with: Bud Carpenter, Dennis DiPaolo, Drew Hull, Ilio DiPaolo Scholarship, Jim Kelly, Mike DiPaolo