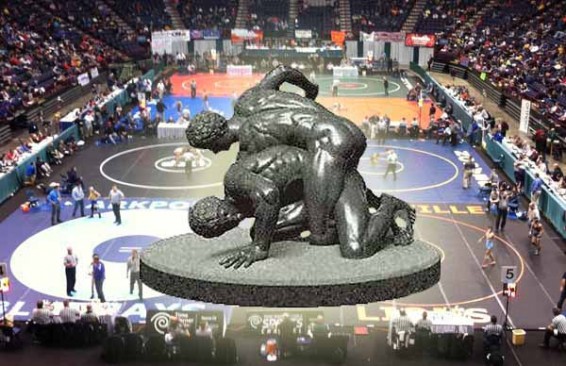 SYRACUSE—The National Wrestling Hall of Fame of the Upstate New York State Chapter would like to announce their new inductees into the National Wrestling Hall of Fame, this year's recipients of the ...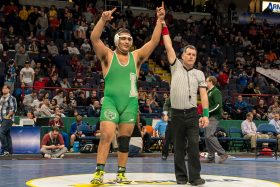 The final match of Lewiston Porter's senior Laith Alsous would be his greatest. Alsous defeated Jacob Morrison of Unatego 2-1 to win the Div II 285 lb. State championship at the Times ...

Top ranked Niagara Wheatfield crowned three champions Saturday night at the Section Six wrestling championships held at North Tonawanda high school. The three Falcon champions were freshman Justin McDougald at 113 lbs, ...
Niagara Wheatfield and Pioneer won their respective divisions in the inaugural Section Six wrestling team championship tournament held at Starpoint high school. Niagara Wheatfield, seeded fourth in the eight team bracket, avenged ...

The Fairport Raiders won the 2017 Lockport Wrestling Tournament with three individual champions, including tourney MOW William Bolia who won the 285 lb. title. Fairport totaled 201.5 points followed by Rush­ Henrietta with ...

High school wrestlers now have one of their own as new head coach of the Buffalo Bills in Sean McDermott. While McDermott has been recognized in the NFL for his football smarts ...

Falconer, the top ranked Div II wrestling team in Section Six, won the 2017 Niagara Frontier Wrestling Officials Association tournament Saturday at NCCC. Falconer topped the 42 teams with 162.5 points followed ...

The 36th Annual Niagara Frontier Officials High School Wrestling Tournament is taking place at Niagara Community College this weekend featuring some of the top wrestlers and teams from the Western New York ...

Amherst's Kellen Devlin capped off a stellar high school wrestling career by winning the prestigious Ilio DiPaolo Scholarship Award May 23rd at DiPaolo's restaurant in Blasdell. Devlin, a three time Div II ...

SANBORN, N.Y. — Niagara County Community College wrestling coach Keith Maute will sign three student-athletes to an NJCAA National Letter of Intent at 11:30 a.m. Friday in the Athletics' Building Lobby on ...
Next Page »