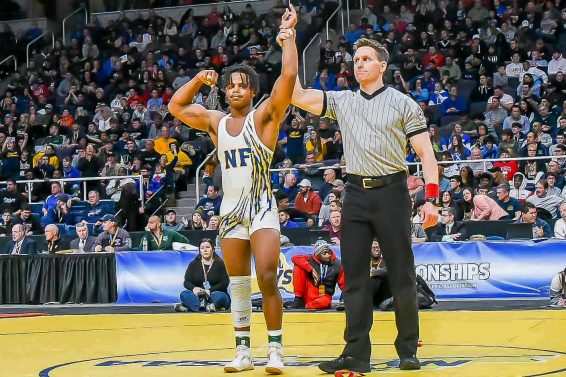 Willie McDougald from Niagara Falls high school and the 2020 145 lb New York State Div I champion has been awarded the 2020 Ilio DiPaolo Scholarship. The annual scholarship, one of six ...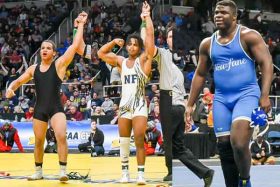 The name McDougald will forever be enshrined in the halls of both Niagara Falls and Niagara Wheatfield high schools after this past weekends NYSPHSAA wrestling championships in Albany. Senior Willie McDougald from ...

Photo gallery from the Section Six Div I wrestling championships held at Starpoint high school Saturday, February 15th.

It was a big night for Lancaster and Williamsville North/East at the Section Six Div I State Wrestling Qualifier at Starpoint high school. Both schools claimed three individual champions in the final ...

The Ilio DiPaolo Scholarship Fund is seeking high school senior wrestlers who are planning on attending college to apply for one of six scholarships. The Scholarship Fund was established in 1995 after ...

The Niagara Wheatfield Falcons upset the top seed Lancaster Legends 34-33 in the championship match of the 2020 Section Six Div I team wrestling tournament winning the match on a criteria tie-breaker. ...

Newfane high school won the inaugural Linda C. Knuutila wrestling tournament Saturday, December 21st at Niagara County Community College. Team scoring was close throughout the two-day tournament with Newfane edging out Iroquois ...

Robert Penhollow, a senior at Falconer high school, has been selected as the 2019 Ilio DiPaolo Scholarship winner. Penhollow claimed the Div II New York state 195 lb. wrestling championship in Albany ...

Section Six had seven total finalists going into the Div I and Div II New York State high school wrestling championships at the Times Union Center in Albany Saturday night with three ...
Section Six will be sending twenty-three Div I wrestlers to the NYSPHSAA 2019 wrestling championships Feb 22nd and 23rd. The list includes 15 champions and eight wildcards. Team and individual photos below.
Next Page »