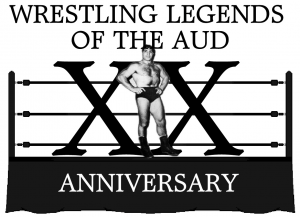 On this date twenty years ago the historic "Wrestling Legends of the Aud, a Tribute to Ilio DiPaolo" professional wrestling celebration was held at Memorial Auditorium. That was the final event to ever take place in the "Aud". Today Dennis DiPaolo announces that a 20th anniversary event will take place on July 23rd at Buffalo RiverWorks to again honor his father and that unique night.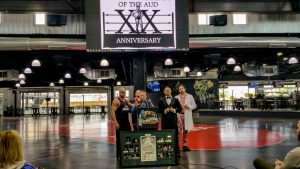 The original "Wrestling Legends of the Aud" in 1996 featured a combination of wrestling legends and the contemporary stars from the WCW. Legends such as Bruno Sammartino, Dick Beyer, Tony Parisi, and Dominic DeNucci were in attendance along with World Championship Wrestling stars Randy "Macho Man" Savage, Ric Flair, Diamond Dallas Page, Lex Luthor and Sting. Also honored were members of the Buffalo Boxing Hall of Fame and martial arts master Gary Castanza.
That night drew 15,000 fans plus and raised over $100,000 for Children's Hospital and the DiPaolo Scholarship Fund. It also led to Wrestling Legends II, III and IV and a partnership with the WCW that brought nationally televised matches and pay-per view events.
On July 23rd Buffalo RiverWorks wrestling will feature North American Heavyweight Champion "Big Time" Bill Collier, "The Franchise" Shane Douglas, "All Ego" Ethan Page, Blackjack Phoenix, The Apontè Twins, Team Canada and Tim Horner Jr. Buffalo RiverWorks wrestling is produced by Jason Royce.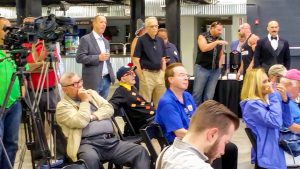 There will also be special appearances by former WCW kingpin Eric Bischoff, The Nasty Boys, Jimmy "Mouth of the South" Hart and Leaping Lanny Poffo Jr. Plus members of the Buffalo media, current Buffalo Bills, Sabres and their alumni.
On that night the late Randy "Macho Man" Savage will also be the first member inducted into the Ilio DiPaolo Legends of the Aud Hall of Fame. The honor will be accepted by his brother Lanny Poffo Jr.
The "Wrestling Legends of the Aud 20th Anniversary" event at Buffalo RiverWorks will follow the Buffalo Bisons July 22nd "Legends of the Aud" Friday Night Bash, making it a "Wrestling Legends" weekend in Buffalo New York.
Proceeds will again benefit Children's Hospital and the Ilio DiPaolo Scholarship Fund. Tickets are $40.00 (VIP reception), $25.00 and $20.00 and will be available at buffaloriverworks.com beginning June 15th.
Wrestling Legends of the Aud 20th Anniversary event is sponsored by Buffalo RiverWorks, The Buffalo News, WGRZ-TV, WKBW-TV, 97 Rock and WGR 550.
Filed under: Local Headlines
Tagged with: Buffalo RiverWorks, Dennis DiPaolo, Eric Bischoff, Ilio DiPaolo, Lanny Poffo, Memorial Auditorium, Nasty Boys, Wrestling Legends of the Aud