Randy "Woody" Ribbeck was the Assistant Equipment Manager for the Buffalo Bills since 1983, but his 35 year tenure came to an end this week. Like so many who had a connection to the Bills glory years of the 1990's, Woody was recently told his services were no longer needed, part of a purge that has been going on at One Bills Drive.
For Buffalo Bill fans who don't personally know Woody, he's the guy who races out after each kickoff to grab the tee. However, Woody Ribbeck has done and meant so much more to the players and members of the organization than fans will ever know.
Ribbeck is a native of North Tonawanda and got his start as a student manager for the NT Lumberjacks. Woody then served as team manager at Cortland State, worked for the semi-pro Buffalo Gremlins, Tonawanda Cougars and Niagara Spartans. Then in 1981 Ribbeck became a part-time employee of the Buffalo Bills and began his long association with the National Football League.
Woody has been with the Bills through the lean years of the 1980's, the glory years of the 1990's and again during the playoff drought of the last seventeen years. Regardless of the success the team had on the field Woody did his job and did it consistently well.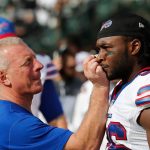 The job of an equipment person in the NFL is a thankless one. First guy in and last one out. Packing, repairing, washing, mending, fixing, inflating and then anything else that needed to be done. Woody also helped players with catching, kicking and running drills. Whatever the task, Woody Ribbeck answered the bell.
Ribbeck once claimed that he ran a 4.5 40 yard sprint in his youth and while he may have lost a step over the years he always ran to his duties on the practice field. Ribbeck once told then Niagara Gazette reporter Jonah Bronstein "Instead of walking, I want to save time by getting there quicker. If I need to spend time on a player's helmet, I know I have an additional 15 seconds."
Ribbeck was unable to comment for this article, but a number of Buffalo Bill greats had plenty to say about Woody:
Buffalo Bills GM and Pro Football Hall of Fame inductee Bill Polian, "Woody had tremendous enthusiasm and " bled red, white and blue". He was a friend to hundreds of Bills through the years with myself included. I'm sure I join with his many friends in wishing nothing but the best for Woody and his family in the years to come."
Former Bills quarterback and Hall of Fame inductee Jim Kelly, "Woody was my guy back in the day and still is one of me best friends now. Woody was a difference maker for the Buffalo Bills organization behind the scenes and he will be greatly missed."
Former Bills running back and Hall of Fame inductee Thurman Thomas, "Great friend and the best equipment repair guy I've ever seen. He would work on equipment and get it fixed faster than most guys who changed tires at NASCAR. You could always count on Woody for anything, and why do I say that, because he's the one who found my misplaced/ hidden helmet in Super Bowl XXVI, lol! I'm going to miss that guy running all over the place at OBD, so whoever replaces him, has his work cut out for them, because I'll be watching very closely, and I'm sure he will hear the words" Woody did it faster."
Former Bill receiver and special teams ace Steve Tasker, " Woody was an integral part of those great Super Bowl years and as good a teammate as any I had during my time on the team. Nobody worked harder or gave more of themselves to the team and the players than Woody. I am very sorry to see him go."
Former Bills receiver and Hall of Fame inductee Andre Reed,"Woody Ribbeck is THE man! That guy worked harder than anyone on the team while I was around and always a great guy to see when I return to Buffalo. It will not be the same going to Training Camp and not seeing Woody sprint from station to station. I am going to miss my man Woody!"
Former Bills running back Fred Jackson,"Woody is a tremendous man. Without a doubt, Woody was an instrumental reason for the success I had in Buffalo. I know that I am not alone in feeling this way. Woody poured everything that he had into the Buffalo Bills, and he was such a great guy to be around. The way Woody attacked the day, made you as a player want to be better. Thank You Woody."
Former Bills kicker Steve Christie," No one worked harder at practice than Woody. He was always a pleasure to work with and I'm saddened to hear that he will no longer be with the organization."
Woody will still be very visible in the local community as he is a founding member of the Ilio DiPaolo Scholarship Fund and an active member of the committee.
One does have to wonder how an organization, looking to regain the lofty status it once enjoyed in the NFL can afford to part ways with a man and employee as dedicated as Randy "Woody" Ribbeck? Yet, whatever Woody decides to do, you can bet that he will do it with the same enthusiasm and commitment that he gave to the Buffalo Bills for the past four decades.
Filed under: Buffalo Bills
Tagged with: Bill Polian, Buffalo Bills, Fred Jackson, Jim Kelly, NFL, Randy Ribbeck, Steve Christie, Steve Tasker, Thurman Thomas, Woody Ribbeck