Rex Ryan knows who his audience is. His opening statement of "Is this mic on? Because it's about to be on!" foretold what we were about to witness for almost an hour at the AdPro Training Center Wednesday. Ryan embraced the Bills, Bills fans and Buffalo and all in all made the biggest splash of any head coach ever hired by the team.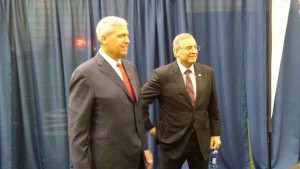 Ryan's message of becoming the bullies of the AFC East and working harder than anyone else has already resonated with fans and players alike. Fred Jackson told me that Ryan's philosophy of "ground and pound" is exactly what he wanted to hear. Jackson also said that every player he has spoken to who has played for Ryan has said great things.
At the end of the day Rex Ryan needs to fix the Bills offense starting with the quarterback position and the offensive line. Ryan did promise to build up the line and over-power opponents, but easier said than done.
Terry Pegula also explained the new hierarchy at One Bills Drive which basically has the President, General Manager and Head Coach reporting directly to him. That type of organizational chart rarely works and can lead to chaotic day to day leadership because someone of Pegula's stature is not available on a day to day basis to help with decisions. Regardless that's the way it's set up, and if it works for Terry Pegula who am I to question his management style. After all, the man is worth billions. However, it is interesting to note that his Buffalo Sabres very much have the traditional organizational chart of the coach reporting to the GM, who reports to the owner.
I have gone on record that hiring Rex Ryan is not a home run in my opinion. I believe he struggled with the same quarterback and offensive issues in New York that he has inherited in Buffalo. That said, he sure gave Bills fans something to cheer about on a frigid January day in Buffalo.
Filed under: Koshinski's Korner
Tagged with: Buffalo Bills, Rex Ryan, Terry Pegula