I was very sorry to hear of the passing of Van Miller. I had the opportunity to know Van personally and professionally, but before that I was a fan.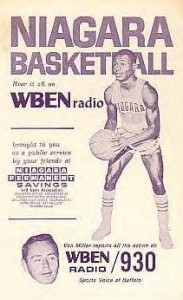 Growing up a Niagara University basketball fan in the 1960's and early 70's meant I heard Van Miller call some of the greatest games in Purple Eagle history on WBEN radio. The dynamic Calvin Murphy played for Niagara from 1967 to 1970 and Van was both the radio and television play-by-play man during the All-American's career.
Van called the game that Murphy scored a record 68 points against Syracuse. Van called the game the night Murphy hit the winning last second shot against 6th ranked Tennessee in the Oklahoma City Classic. Van was also the voice on the radio the night Niagara upset Pennsylvania University in the first round of the NCAA tournament.
Van Miller is being remembered for his many years of calling Buffalo Bills games, but he was also the voice of the Buffalo Braves. Van Miller was as good calling basketball as he was football and that's was mighty good.
I first met Van Miller around 1969 at a Father/Son Communion breakfast. It was Father's day and Van still agreed to be the featured speaker to a crowd of about fifty people. I approached Van and told him how much I enjoyed his work on Niagara games and that some day I too would like to work in radio. Van was gracious and very encouraging, something I remember on this day.
When I worked with another legend, Rick Azar at WKBW-TV in the 1980's Van was considered a competitor. But, Van always welcomed me warmly and usually with a joke when our paths crossed in the street.
In fact, one year I asked Van if he could surprise my Dad with a happy birthday greeting while doing a Bills radio game and he did exactly that. My dad was thrilled!
When I worked at Empire Sports Network Van was always around. Van did a number of college basketball games for Empire and gave credibility to a start-up regional sports network. In fact, Van was a favorite of Adelphia and Empire Sports founder John Rigas and was always on the invitation list for Empire holiday parties and celebrations.
Van Miller was someone who enjoyed being around people and the feeling was mutual. He often told the same jokes at any dinner he spoke at, but we always laughed. His line that he was so old that his social security number was four, or that he was a guest at the Last Supper are two that come to mind.
Of course Van Miller was also an integral part of the Buffalo Bills Super Bowl years. Several of Van's calls are in Canton Ohio, playing on a non-stop loop over NFL Film highlights of the Bills successes and failures. Van Miller was as much a part of that team as Jim Kelly, Andre Reed, Thurman Thomas or Marv Levy.
How many times has the word "fandemonium" been used by Bills fans after Van first uttered it during those glory years? How many times did we hear "Kelly under center" or "Bruce Smith with the sack"? Van Miller's calls are etched into our minds as much as watching Thurman break a tackle or Reed hauling in a pass on the run?
Van Miller was a legend, a true Hall of Fame broadcaster and one of the finest play-by-play men ever to speak behind a microphone. He will never be forgotten by those who heard him work his craft. I know I never will.
Filed under: Koshinski's Korner
Tagged with: Buffalo Bills, Buffalo Braves, Calvin Murphy, Niagara University, Van Miller