DON'T GET ME STARTED has me trying to figure out how in the world Buffalo, Edmonton and Arizona will be playing hockey. Will they go all out to win or go all out to lose?
The problem for Buffalo and Edmonton is they have about the easiest schedule as they try for the right to get either McDavid or Eichel. That goes to the team that finishes last. Of course, one of these teams can win the lottery and get the choice of those players.
If you want to go along with me for the final ride of the season. Let's do it by looking at the teams each of the "last place contenders" will face beginning Friday March 21. First let me say that if the Sabres want to contend for last place, they would have to – at least- split the two games they have against Arizona. Buffalo is 3 points behind the Coyotes. The Sabres have occupied last place for many months. If Buffalo beats the Coyotes twice – Arizona plummets to last place – a great position to grab a great player. Though the teams will have games left in the season, fans will be screaming for tanking and who knows, it may go down to the last game.
Coach Teddy Nolan has the team playing its best of the season having garnered 3 out of 4 points against Washington and Boston.
Here are the teams contending for last place will face beginning Friday March 20th.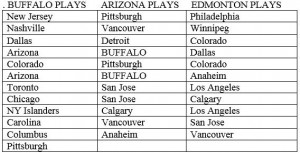 Let the games begin on Don't Get Me Started.
Filed under: Don't Get Me Started
Tagged with: Art Wander, Buffalo Sabres, NHL schedule