The Buffalo Sabres won their first home game of the season with a 3-2 shoot-out win over the L.A Kings. Matt Moulson and Tyler Ennis scored goals in the shootout for Buffalo to ice the win. Cody Hodgson scored two regulation goals, his 6th and 7th of the season to spot the Sabres a 2-1 lead in the 3rd period. Dwight King tied the score for Los Angeles with his fifth  of the season at the 16:26 mark of the third.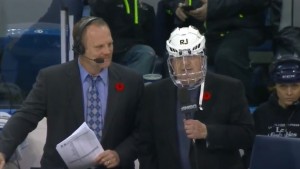 Rick Jeanneret, the Sabres legendary play-by-play man, did the entire game with Rob Ray between the two benches at ice level because the elevator to the Press Box was out of order.
The Sabres host Toronto Friday and now stand at 4-15-1 with 9 points.
Filed under: Buffalo Sabres
Tagged with: Buffalo Sabres, NHL, Rick Jeanneret