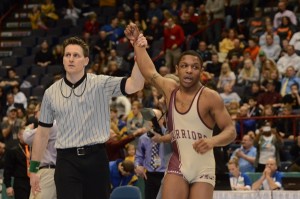 Cheektowaga High School State wrestling champion Renaldo Rodriquez-Spencer officially signed with the Iowa State Cyclones Wednesday morning. Rodriquez-Spencer signed the letter of commitment with his parents, family, coaches and the Cheektowaga Warrior teammates present. Iowa State is currently ranked 16th in the nation and is the home of college wrestling legends Cael Sanderson and Bobby Douglas.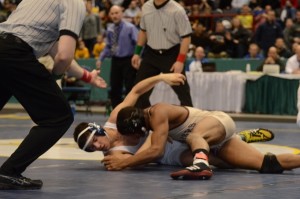 Renaldo Rodriquez-Spencer won the 2013 Div II 132 lb. New York State championship after taking 2nd at the 2012 tournament at 126 lbs. Renaldo is a two-time Section 6 Champion and was a wildcard entrant in 2011 at 103 lbs.
Renaldo also won the NHSCA National Tournament Junior Division at 138 lbs this past summer with his now famous "flying squirrel' takedown. Trailing 3-2 with just seconds remaining, Rodriguez-Spencer took down Alfred Bannister of Maryland with the "flying squirrel" takedown and it then went viral after being posted by All Sports WNY on Youtube with over 956,000 views.
Filed under: High School
Tagged with: Cheektowaga High School State wrestling champion Renaldo Rodriquez-Spencerr, Cheektowaga wrestling