Renaldo Rodriguez-Spencer won his 2nd consecutive NHSCA Title Sunday in Virginia with an 8-6 overtime victory over Nikko Villareal of California. Rodriguez-Spencer was named the Senior Division Most Outstanding Wrestler for his victory over Villareal who is ranked #9 in the nation at 145 lbs. Rodriguez-Spencer was ranked #10 nationally prior to his win over Villareal, which was much anticipated and didn't disappoint.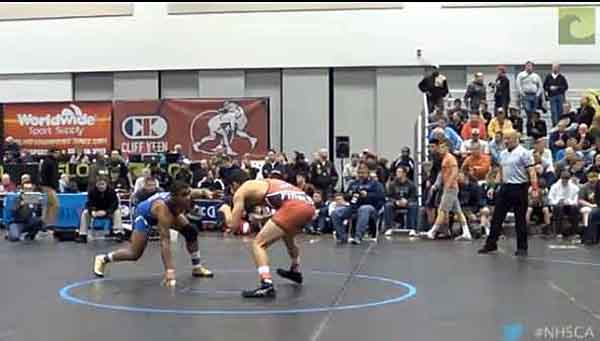 The Cheektowaga senior missed the final month of this past high school season and the New York State Tournament after injuring his knee in January. Coach Matt Haberl worked with Renaldo the past three weeks helping him prepare for the nationals. Rodriguez Spencer won six matches over two days to clinch the national championship in Virginia Beach Virginia.
Last year Rodriguez-Spencer, who has committed to Iowa State University, made national news by winning the Junior title with a last second move called the "Flying Squirrel".
Filed under: High School Wrestling
Tagged with: high school wrestling, NHSCA, Renaldo Rodriguez-Spencer