Sports fans in Western New York Thursday night watched the Buffalo Sabres and Buffalo Bills get out to comfortable leads in the oppositions arena and then hold on by their skin of their teeth for victories. It was a great night to be a Buffalo sports fan. A night when defeat was almost taken from the jaws of victory. A night when things went our way, finally.
The Sabres are now a .500 team and actually in the early hunt for a playoff spot. It has become exciting once again to watch a Sabres game and hope for the best.
The Buffalo Bills are a Jekyll and Hyde team if we ever saw one, but are now 5-4 and also in the playoff hunt. The Bills joy could turn to tears in 11 days when they go into New England, but let's enjoy the win over the Jets first.
Television viewers in WNY watched the Sabres first Thursday night while probably flipping over to the NFL Network's pregame coverage of the Bills/Jets game. The broadcast was heavy with Buffalo features, especially on Rex Ryan.
Once the Bills game started at 8:26PM most probably turned back to the Sabres every stop in play at the Meadowlands. It was a night for continual hitting of the "last" button on the remote.
Imagine what it was like for Terry and Kim Pegula or Russ Brandon? Most certainly they were in New Jersey with the Bills, but all the while still watching their Sabres holding on for a "W" down south.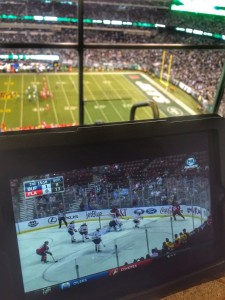 Kim Pegula posted this picture on Twitter of the Sabres game on in the visiting owner's suite at MetLife Stadium. You can bet a loud cheer came from that suite after the Sabres held on for the 3-2 win over Florida, the Panthers buzzing the net in the final seconds with an extra attacker.
Two hours later an even louder cheer as Bacarri Rambo picked off Ryan Fitzpatrick in the final seconds to ice the Bills 22-17 win over the Jets. It was as Kim posted after the win "Won Buffalo".
Filed under: Koshinski's Korner, Local Headlines
Tagged with: Buffalo Bills, Buffalo Sabres, Kim Pegula, One Buffalo, Rex Ryan, Russ Brandon, Terry Pegula