All week I have watched and read others share their experiences meeting the great Muhammad Ali. I too met the "Greatest" and it was right here in Buffalo after Don King's "Blockbuster in Buffalo" fight card at the Aud in the spring of 1985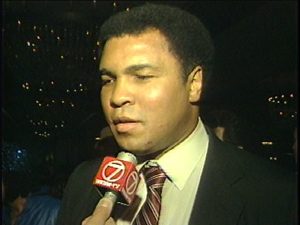 To promote his Buffalo event King held a lavish luncheon and media event in New York City early in 1985. Buffalo media flew to New York early in the morning to cover King's luncheon and hear him announce his nine bout card to be held at the Aud. The event included  flamboyant light weight Hector Macho Camacho and heavyweights Greg Page and Tony Tubbs. However, for me the main attraction at the dias on that day was the presence of Muhammad Ali. Unfortunately Ali did not grant interviews during the event in Manhattan and left the room immediately following KIng's introductions.
I first heard of Ali when he was Cassius Clay and about to fight Sonny Liston in February of 1964. I was almost ten and up to that point my sports heroes were mainly baseball players like Mantle and Maris. I had never seen anyone like Cassius Clay, few did. I was fascinated by Clay's antics and brash words, but followed my father's lead in thinking he was too much.
On the night of February 25th I listened with my Dad to a radio round by round description of the championship fight between Clay and Liston. There was no live broadcast of the bout at the time and radio listeners had to rely on the delayed observations of a ringside reporter.
When Clay won that fight and upset a fighter in the seemingly indestructible Liston he shocked the boxing world. Shortly after when Cassius Clay changed his name to Muhammad Ali he shocked the nation.
Like so many at the time I watched every Ali fight available on television, hoping to see him lose. At the time Ali was so good and so loud that he was an athlete you loved to hate. That all changed for me when he was stripped of his title for refusing to fight in the Vietnam War.
I was 13 when Ali began his battle with the United States government and 17 when the Supreme Court ruled in his favor in 1971. I was about to be Draft eligible myself and Ali's stance was very much on my radar. From there I not only appreciated Ali's skill as a boxer, but his courage as a man.
Muhammad Ali went on to lose to Joe Frazier, but of course won the next two fights with the Philly fighter. It was Ali's unbelievable upset win over George Foreman that cemented his place among the very best of all time to me.
So when Don King brought his version of a boxing circus to Buffalo in  85′ I was there covering if for WKBW-TV. I did interviews all week long with King and many of the fighters preparing for the fight.
On fight night I did the customary live-shot on the six o'clock news and post fight interviews immediately after for the 11 PM news. King had flown in several celebrities to sit ringside like Latoya Jackson, actor David Keith and of course Ali.
When the fight's ended the Buffalo Chamber of Commerce held a post-fight party at the then Buffalo Hilton. My photographer and I ran over to the hotel to see what other interviews we could secure and I was hoping to run into Ali. Turned out I was in luck.
My recollection is that no other television reporters were at the party, not 100% sure, but that's what I remember. The Hilton, now the Adams Mark, of course is right across the street from WKBW so we were able to run over while the other reporters had to drive back to their stations. Since there was not a large presence of media Ali was more approachable and not being protected by handlers as he was months earlier in New York.
I only asked Muhammad three short questions about that night's card. The reason I only asked the "Greatest" three questions was because I couldn't hear his answers. The room was loud with music playing and Ali was so soft spoken that I literally had no idea what he was saying. Luckily the microphone picked up his answers, but with me having no idea what he was saying it was impossible to ask follow-up questions. It was obvious that Parkinson's disease was already taking it's toll just four years after his last fight in 1981.
I was genuinely thrilled to have met Ali and had an opportunity to conduct an interview, albeit a short one. The Champ was cordial and approachable, but I would have loved to have met  him when he was the greatest interview on earth.
I've been asked over the years who was the most famous sports star I have ever met and my answer has always been Muhammad Ali. It would have been great to have a photo from that moment or if the photographer had shot it in a two shot, but that moment will always be etched in my mind.
Muhammad Ali changed boxing and he changed how professional athletes, especially African Americans conducted themselves. Ali also used his fame and the reach that it gave him to help countless others.
On the day Ali will be laid to rest let me say that I always felt fate dealt him a cruel blow by robbing the most loquacious athlete in our history the ability to speak. Yet in the end it was Ali's deeds that were so much louder than his words.
Filed under: Koshinski's Korner
Tagged with: Blockbuster in Buffalo, Dong King, Greg Page, Hector Macho Camacho, Muhammad Ali, Tony Tubbs