The Lancaster Legends and Falconer Golden Falcons won the 2018 Section Six team wrestling dual championships Saturday, January 20th in the Legends field house. Number one ranked Lancaster won the Div I championship defeating number two Grand Island in the title match 39-23.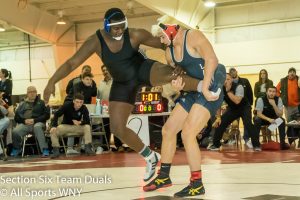 Lancaster defeated Frontier in the first match of the day 43-22 and knocked off last year's champion Niagara Wheatfield 44-27 in the semi-final match.
Grand Island made it to the finals by defeating Lockport 52-24 and Clarence 47-30. Niagara Wheatfield hen defeated Frontier 61-15 in the consolation match for third place.
In Div II Falconer easily defeated Akron/Alden 64-11 in the championship match. The Falcons defeated Newfane 55-29 in their first bout and upset top seed Olean 48-28 in the semi-finals.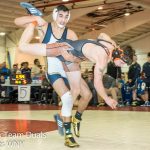 Akron/Alden surprised third seed Iroquois 45-40 in the day's first match and then shocked last year's champion and number two seed Pioneer 37-36 on a tie breaker criteria in the semi-final match. Pioneer defeated Iroquois 42-37 for third place.
Lancaster and Falconer will now represent Section Six and travel to Syracuse January 27th for the first ever New York State Dual Championships.
Filed under: High School Wrestling
Tagged with: Falconer high school, high school wrestling, Lancaster high school, Niagara Wheatfield, Pioneer, Section Six wrestling duals