Today, August 18th is the 28th anniversary of Jim Kelly's signing with the Buffalo Bills. I have written many times about my involvement in the story, but today I would like to clarify one point, I did not catch the first pass thrown by Kelly in Buffalo.
I was sent to Houston on August 16th, the same day the Bills were playing the Oilers in a preseason game to see if I could secure an interview with Kelly. Jim wanted no part of an interview with a Buffalo TV station and the best I could do was speak to his agent Greg Lustig.
I was to leave on the Bills team plane that night with my boss, Rick Azar of WKBW, but was called off the flight just before take off. Ch 7 News Director Jerry Fedell wanted myself and photographer Rick Swenson to remain in Houston until Kelly agreed to terms with then rookie GM Bill Polian.
On the morning of the 18th I was awoken at around 4am by a call from Vic Carucci of the Buffalo News telling me the deal was done. Vic broke the story in the News that morning and graciously allowed me to have the TV side. So beginning at 7am I began doing live studio reports back to Buffalo from a Houston ABC affiliate. Around 12:15pm we left the studio to try and get an interview with Kelly before he left for Buffalo on a charter flight. Again, only Lustig would speak with me on camera.
That interview was sent back to Buffalo by satellite and Rick Swenson and I hustled to the airport to try and catch a flight back to Buffalo. I managed to get the last seat available, using a ticket printed for the next day, something that could never happen today and was on my way home.
I landed in Buffalo around 5pm and drove back to Ch 7 on Church Street. My stories were done for the day so I basically watched in the newsroom, waiting for Kelly's plane to land at Prior Aviation.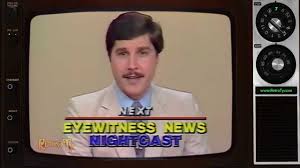 At Prior was WKBW News Reporter Dan Hausle doing a live microwave feed back to the station. Jim Kelly walked down the steps of the plane with his two agents and Bill Polian and shook hands with Bill Munson and Denny Lynch of the Bills. Local and national media were all there covering the event like it was the Pope who had landed. I believe it was then Bills PR Director Denny Lynch who handed Jim a football and Dan Hausle yelled to Jim to throw it. So, Jim Kelly threw his first pass in Buffalo to….Dan Hausle. The pass was shown live on TV by the rest of the media as well and did not thrill those covering the story from channel's 2 & 4.
The Kelly story was obviously huge, one of the biggest of the 1980's in Buffalo. I had my few minutes in the limelight with the early coverage and subsequent later interviews and stories with Jim, but as time passed somehow viewers remembered me catching Kelly's first pass not Dan. Hausle and I both had dark hair and mustaches so I could see how folks not paying close attention or with the sound down might get confused.
I heard it again this morning as Sal Capaccio on WGR radio brought it up and wondered if they should talk to me about it on the air. I laughed because it had been a while since I heard anyone say I was Jim Kelly's first receiver, but alas it is just not so.
Actually it would have been cool if I had caught Jim's first pass in Buffalo, especially after witnessing the man he has become and the Hall of Fame career he enjoyed in this town. However, I have to give credit to my old buddy Dan Hausle for being the rightful owner of that honor. Hard to believe it was 28 years ago today!
Filed under: Koshinski's Korner
Tagged with: Buffalo Bills, Dan Hausle, Jim Kelly