Amherst's Kellen Devlin capped off a stellar high school wrestling career by winning the prestigious Ilio DiPaolo Scholarship Award May 23rd at DiPaolo's restaurant in Blasdell. Devlin, a three time Div II New York State champion and a Virginia Beach National Champion will be attending North Carolina State on a Division I wrestling scholarship in the fall.
Kellen Devlin told the crowd upon accepting the award "It's not like we do all the things we do in practice and afterwards and then go out in the community and do all that work just so we can get that huge trophy that's almost larger than me, but for me it's easy because I have a great role model at home in my Dad who shows me all those things." Devlin then turned to his father in the audience and said " Your a good dude!"
Devlin, a four time National All American also told the crowd that the Ilio DiPaolo Award is the most coveted honor in the wrestling community and "To win it you have to be the cream of the crop." Devlin owns a glossy 259-16 record in six seasons at Amherst and is also a member of Students Against Abusive Dating, mentors underclassmen as student leader of Pathfinders and is an honor roll student.
The 21st annual DiPaolo Scholarship dinner awarded five scholarships in all, including Devlin's in front of a crowd of 200 at the popular Blasdell restaurant founded by Ilio DiPaolo. Other wrestlers receiving honors were Ryan Hetrick of Maple Grove winning the Gary Castanza Award, Dakota Gardner of Fredonia awarded the Destroyer Award, Bradley Bihler of Maple Grove winning the Bill Hein Award and Cameron Swick from Barker/Roy-Hart winning the Cauliflower Alley Club Award.
Hetrick from Maple Grove is a three-time sectional champion, amassing a 224-35 career record. Hetrick and volunteers at Special Olympics and Relay for Life, Walk for Cystic Fibrosis and What's New Fair at Jamestown Community College.
Bradley Bihler, a teammate of Hetrick's at Maple Grove won the Div II state title at 138 pounds and holds the school record for career wins at 192.
Dakota Gardner received the Destroyer Wrestling Award named in honor of professional wrestler Dick "The Destroyer" Beyer. Gardner placed at the State tournament five times and holds the WNY career record title with 267 wins and only 29 defeats.
Cameron Swick was undefeated his senior season and won the State Div II 160 lb championship despite breaking his leg as a junior, leaving his future in doubt.
The DiPaolo Scholarship awards are based on a student athletes performance on the mat, in the classroom and community service.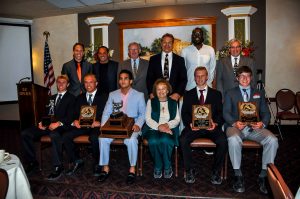 Filed under: High School Wrestling
Tagged with: Bradley Bihler, Bud Carpenter, Cameron Swick, Dakota Gardner, Dennis DiPaolo, high school wrestling, Ilio DiPaolo Scholasrhip, Kellen Devlin, Ryan Hetrick