There has been a new development in Jim Kelly's battle against cancer. Doctors treating Kelly released a statement Wednesday afternoon which stated he will not immediately undergo surgery for a recurrence of cancer.
Kelly will undergo chemotherapy and radiation, according to a statement from Lenox Hill Hospital in New York City.
"Jim Kelly's condition remains very treatable and potentially curable," Dr. Peter Costantino said in the statement. "Our immediate focus is on controlling his pain and beginning the process of eradicating the cancer."
Kelly underwent surgery in Buffalo last June to remove a squamous cell carcinoma from his upper jaw. With the discovery that the cancer has returned even more aggressively than last year, Jim Kelly was to undergo surgery on Thursday.
Costantino said surgery remains a potential part of the treatment strategy for the cancer that he said is present in Kelly's maxillary sinus and adjacent tissues.
"His cancer returned in a location that requires specialized expertise in the treatment of skull-based tumors," the hospital statement said.
Kelly's wife, Jill, also posted the following on facebook: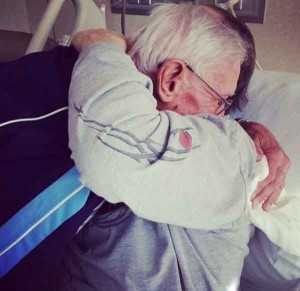 Had to share this picture of Jim hugging his dad.
Plans and protocol have changed – but no plan and purpose of God's can be thwarted!
This we KNOW to be true.
First of all, thank you for walking along side us, lifting us up in prayer, loving us, and hoping.
This is what we cling to…our HOPE in the God who is greater than all – who knows what we don't, who created the heavens and the earth as well as the
intimate details of the seen and unseen.
He is our Hope!
Beyond the doctors, medicine, treatments, surgery – God is our ever present HOPE, Help, and Healer!
There's been a lot that has been said so we thought it would be best to clarify.
At this point and time surgery is not the best option for Jim.
Because of complexity and aggressive nature of this cancer and after more scans and tests, the plan has changed.
At this point, Jim will not be having surgery. The cancer is in areas that surgery cannot successfully eradicate. Therefore, the medical specialists here in NYC along with our Buffalo team believe that chemotherapy and radiation are the best option.
If you've dealt with cancer you know that you never really know for sure what each moment will hold.
But..Praise God. We are held in the Strong Mighty hands of an Unchanging God.
Thank you for your continued prayer support.
I will share updates as we move forward – ready for this battle waged against us.
If God is for us.who can be against us!
Filed under: Buffalo Bills
Tagged with: Buffalo Bills, cancer surgery, Jill Kelly, Jim Kelly