Jill Kelly has posted photos on her Facebook and Instagram accounts showing Jim Kelly celebrating after undergoing his final radiation treatment.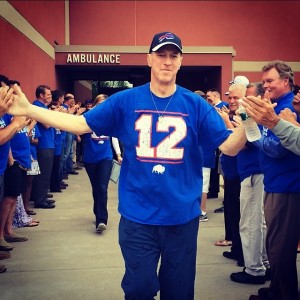 Kelly underwent a regiment of chemotherapy and radiation treatments targeting cancer cells in his maxillary sinus and adjacent tissues over the past eight weeks. The treatments began in New York City, but Kelly returned to Western New York last month and has been receiving treatment at ECMC.
Jim Kelly told All Sports WNY two weeks ago that he remains committed to keeping the Buffalo Bills in Buffalo and being part of the new ownership group to make that happen.
Filed under: Local Headlines
Tagged with: Buffalo Bills, Jim Kelly, radiation