Jim Kelly held court with the media at his annual youth football camp behind Sweet Home high school and it was like old times, almost. When Jim pulled off his cap to reveal his bare scalp, a result of his radiation treatments for cancer, it quickly brought back the memory of what he has been going through for the past four months.
Jim Kelly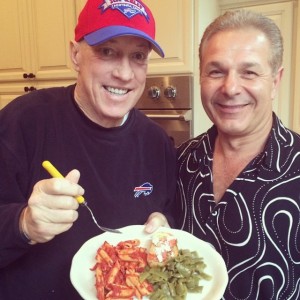 lost 51 pounds as a result of cancer treatment and is now finally enjoying some solid foods. Jim even had some Ilio DiPaolo's pasta and Italian beans Wednesday night at home and said he could actually taste it, which is a good sign.
The DiPaolo pasta may had helped Kelly throw a few passes during a flag football scrimmage he joined with some of his campers. "It felt good being out there, but I still have to take it slow. I walk every morning with Jill and my brother Ray so I can get my stamina back."
Jim traveled to Houston last week for an examination to see if the cancer had spread from his jaw to other areas and received good news that it had not. Next up is a trip back to New York City to undergo a scan to see if the radiation and chemo were effective in shrinking the cancerous area. As Jim put it "it's one step at a time".
Kelly spoke about things we had heard before, how much support he has received from family, friends and especially strangers. Jim also admitted the public way he has handled his illness was not his idea, but his wife Jill. "You know me, I like to be private about my own business," said Kelly, " but Jill convinced me that the more prayers you receive the better chance you have to get better." Kelly discussed how he tried to use his fight to inspire others, especially those in the hospital who he would share with the many gifts of flowers he had received.
When I asked about his pursuit of the Buffalo Bills Jim said his brother Dan has been handling most of that and so far he has not aligned himself with any one particular group pursuing the Bills. "Everything must be done by the book first and follow the guidelines created by the NFL," said Kelly. "When the time is right we will see where we stand in all of this."
Kelly did say he was certain the Bills would remain in Buffalo and at the end of the day that and a return to the playoffs and winning a championship is what is important. Certainly for family and friends of Jim Kelly, seeing him getting better is the most important thing right now.
Filed under: Koshinski's Korner
Tagged with: Buffalo Bills, Ilio DiPaolo's, Jim Kelly, Sweet Home high school