Tickets are selling fast for the JFK Flag Football 50th Anniversary Party, being held on November 16, 2013 at the Lake Erie Italian Club, 3200 South Park Avenue, Lackawanna. Seating is limited, so buy your ticket for you and your family now! Tickets are $35 for a single, $60 for a couple and can be purchased at Sterling Place Pub or by contacting the league office at 716-675-5630.
History
(taken from the
JFK Football
web site) The John F Kennedy Football League of Buffalo NY has been and continues to be a full contact touch football league. It has provided the opportunity to play the game of full contact touch football at the highest level for the past 50 years.
This is not to say that it does not embrace the flag game. It has and continues to do so. Proof of that can be found in the historical record. It was in 1991 that the JFK League approached Mike Cihon and the USFTL about doing an Invitational tournament in Buffalo.
The venue took place at the UB Flint artificial surface field (which was at the time very new and a novelty to play on). The problem was costs and how to pay for it. Tournament fees were not going to cover it and Mike Cihon was opposed to paying anything (he still to this day pays very little for playing fields and it shows).  The going rate at the time for the all weather UB field was $32.00 / hour and it didn't take long to run the bill.
Notwithstanding the JFK League stepped up to the plate and provided the necessary funding to make the tournament happen. It was composed of mostly local teams but there were a few out of area teams including the 7 time multi style national champions Gibbs Team. The tournament was a rousing success and everyone was impressed with the format and the surroundings.  And so we had our first flag football tournament in Buffalo.
What followed was a Invitational tournament in 1992 and 1993 at UB. The expenses to host these tournaments grew and the JFK League continued to subsidize them. Based on the success of the overall tournaments and the playing field conditions the USFTL pitched the Buffalo area and as a result Buffalo hosted the 1994 and 1995 USFTL Nationals here on both Thanksgiving weekends  at UB (27 fields)  (since that time have been held in Orlando FL). The USFTL benefited greatly from having the Nationals for two years in Buffalo (how much they benefited we will save for another day).  Suffice it to say that it was a sweet deal for the USFTL.
The JFK League was never compensated for underwriting the Invitational's leading up to the Nationals but thinks fondly of those early years and was thankful for the opportunity to do its part to establish the flag game in the Buffalo area.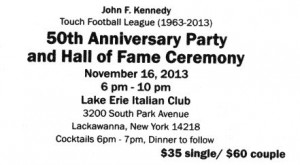 Filed under: Local Headlines
Tagged with: JFK football