BUFFALO, N.Y. (September 12, 2014) — Individual tickets for the Buffalo Sabres' 2014-15 season will go on sale to the general public tomorrow, Sept. 13, at 9 a.m. The variable pricing plan for tickets breaks games down into five classifications to determine ticket price: Platinum, Gold, Silver, Bronze and Value. Games were categorized based on the opponent, time of the year, day of the week, classic rivalries and games against marquee players.
Mini-Packs, which are currently on sale, give fans the opportunity to create their own ticket package comprised of anywhere from five to 40 games. By purchasing a Mini-Pack, fans can save up to 25% off box office prices. Additionally, Mini-Pack holders will not pay a ticket service charge and will have the ability to purchase playoff tickets before they go on sale to the general public (based on availability).
The pricing plan for the 2014-15 season includes one Platinum game (Nov.. 15 vs. TOR), seven Gold games, 14 Silver games, 11 Bronze games and eight Value games.
Tickets can be purchased online at Tickets.com, in person at the First Niagara Center Box Office, and by phone by calling 1-888-223-6000.
A breakdown of ticket prices for the 2014-15 season is below, marked for box office (BO) and Mini-Pack (MP) prices. The full season schedule with game pricing designations is attached to this release..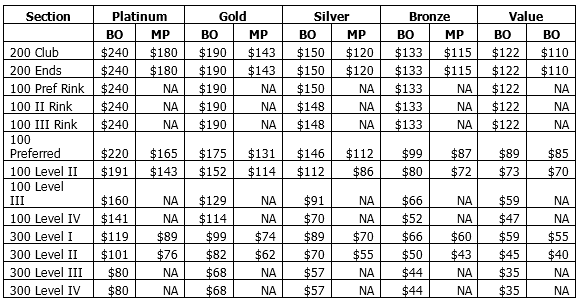 Filed under: Buffalo Sabres
Tagged with: Buffalo Sabres, Sabres tickets