The NFL has started post-season, the NHL is ramping up the second half of it's campaign and basketball is getting coverage on the front page. Yet, for a select group of dedicated high school athletes the next seven weeks will be the most physically and mentally challenging of their entire lives and many will never notice. I'm referring to the high school wrestler.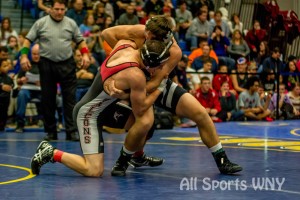 The high school wrestler is a unique individual, competing in a grueling and sometimes brutal sport. The daily workouts are filled with sweat, exhaustion and a distinct smell that is a combination of body odor and spoiled milk. Throw in weight reduction and dieting and it's a wonder anyone goes out for the sport. However, once you do it usually gets in your blood.
I know a little something about high school wrestling, having wrestled way back in the day and have three sons who all competed in the sport. I also coached for a few years and covered it at various levels of media for almost forty years. In fact, I still follow and cover the sport because I enjoy it, but also because the kids deserve it.
A high school wrestler has to walk out on the mat all alone to face his opponent. The gyms many times are more than half empty and for some, only Mom and Dad and fellow teammates are cheering them on. If the coach calls in the results they are usually on the last page of the sports section and almost never on local television sports reports. It's not a sport one goes out for to receive public recognition.
Today many kids are exposed to the sport of wrestling at an early age, competing in local clubs. Going to a youth wrestling tournament is like watching an ant hill. A gymnasium filled with sectioned off mats and as many as twenty matches going on at once. It's organized chaos!
You would think with all the young wrestlers competing in the sport the high school rosters would be over-flowing, but they're not. Youth wrestling has big trophies, less demanding workouts and very little weight loss. In other words it's fun.
High school wrestling is hardly fun. It's a physically and mentally demanding sport. On the day of a match a wrestler walks the high school halls with one thing in mind, that night's match. A grappler will mentally go over a match hundreds of times throughout the day before stepping on the mat. A loss will sting for days, sometimes years.
Making weight is also a huge part of the sport, sometimes a bigger obstacle than facing the next opponent. The sport has introduced various regulations regarding weight loss to protect the athletes and discourage unhealthy dieting, but dropping eight to ten pounds before every match is still a bear.
While most of us were enjoying our holiday meals some high school wrestlers were standing on a bathroom scale, food in hand to see how much they could reasonably eat and still make weight for the next tournament just three days away.
So why wrestle? For many it's an opportunity to compete in a sport where you don't have to be tall or fast. A 99 pound wrestler is just as valuable to the team as 197 pound wrestler. Plus the sport of wrestling almost always rewards hard work. A well drilled, well conditioned wrestler will find success more times than not.
Then there is the feeling a wrestler gets when the referee raises your hand. All of that hard work and sacrifice is rewarded in one brief second as your arm is lifted above your head as your opponent turns to walk away. You head back to your bench and feel an elation that is hard to replace later in life.
Former Buffalo Bills All-Pro nose tackle Fred Smerlas, a Massachusetts high school state champion, told me this past Spring that he feels wrestling is the toughest sport there is. I should also mention that Fred's son Zach won a Massachusetts state title as well.
In fact, many Buffalo Bills like "Wall of Famer" Booker Edgerson and Al Bemiller were outstanding wrestlers and would it surprise you to know that Bill Polian also wrestled in college? Polian actually sought out former wrestlers while analyzing future NFL draft picks.
Polian felt former wrestlers usually developed a great combination of strength and balance and were often unmatched in mental toughness. "You show me someone who has been successful at wrestling," Polian said, "and that's one tough hombre."
So the high school wrestler is a unique athlete who chooses the competitive spotlight instead of avoiding it. They seek confrontation and a definitive outcome to a contest instead of passing off the ball. A wrestler learns to deal with multiple challenges over and over again over a two day or two month period. It's a lesson not easily forgotten.
This weekend I'll be at the annual Niagara Frontier Wrestling Officials Tournament held each year at Niagara County Community College. Thirty-five teams will be competing and some of the finest wrestlers from the Western New York and Rochester area will be competing over two days in the NCCC gym. Photos and results from the tournament will be posted here at All Sports WNY.
So here is to those warriors of the mat who will put it on the line over and over again this weekend and the next two months. The young men and women (yes women), who battle on through both victory and defeat, regardless of whether we read their names in the paper or see them on the Friday night TV highlights. I'll be out there taking your photo and trying to shine a brief spotlight on your efforts because man do you deserve it.
Filed under: Koshinski's Korner
Tagged with: Al Bemiller, Bill Polian, Booker Edgerson, Fred Smerlas, high school wrestling, NFWOA