Wednesday night I was part of a full-house at the North Park Theater for the premier of ESPN's 30 for 30 documentary "Four Falls of Buffalo". Having covered those Super Bowl teams I was eager to see what NFL Films and ESPN had created. The production is well researched and edited, as one would expect from NFL Films, but it is also an emotional and yes, sometimes depressing trip back to the glory years of Buffalo's beloved Bills.
I had been contacted by NFL Films in the spring of 2014 because they were looking for show tapes of the numerous Bills player shows from the former Empire Sports Network. I also tried to assist Producer Michelle Girardi Zumwalt in finding interviews that been done with Kelly and Thomas while I was at WKBW-TV in 1989. It was obvious that the creators of "Four Falls of Buffalo" were attempting to tell the whole story, warts and all.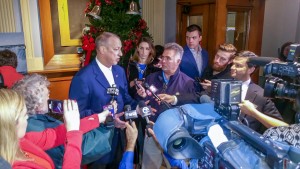 There were few things in the finished production that I didn't already know or had seen first hand, but to put all of those moments together over eighty minutes was somewhat of an emotional drain.
There is a heavy emphasis on 1989 and the "Bickering Bills" as well as the creation of the "K-gun" and the emergence of the 1990 Bills team.
With the classic NFL music track supporting those great highlights of that 1990's team, that first 45 minutes will probably be the favorite part of the documentary for most Bills fans.
The rest of the production features emotional and sometimes humorous interviews with Kelly, Thomas, Reed, Tasker, Reich, Levy, Polian, Beebe, Talley, Smith, Davis and Scott Norwood. Norwood's interview on the steps of Buffalo's City Hall with Special Team's Coach Bruce DeHaven is particularly gut-wrenching.
Honestly, I found the reliving of those four consecutive losses a bit depressing. The mind has a way of remembering the good times and burying the bad, but "Four Falls of Buffalo" brings everything back, in spades!
Producer Ken Rodgers does leave viewers with a "feel good" finale, one that will be especially enjoyed by loyal Bills fans. It brought the crowd in the North Park Theater to their feet and a well deserved ovation for all involved from NFL Films and ESPN.
For me, some moments that stuck out included hearing from some of the Bills opponents in those big games like Troy Aikmen heap praise on the Bills for getting to four straight Super Bowls.
I was also surprised at the level of criticism aimed at former line coach and radio personality Chuck Dickerson for his antics in the media room before Super Bowl XXVI. Dickerson had gone out of his way that week to tease and poke the Redskins offensive line known as the "Hogs" and is harshly singled out by those profiled in the documentary.
Owner Ralph Wilson is absent from the production for the most part. Wilson had passed before filming had begun, but there is little of him from old interviews and footage. Wilson's absence did not go unnoticed by Jim Kelly who brought it to my attention at the after party.
Another interesting tidbit I picked up from Producer Ken Rodgers after the screening was that ESPN actually discussed holding a parade in Buffalo for that group of Super Bowl players. Parade footage would have been included in the production and producers felt it would have been a well deserved tribute, but in the end the idea was dropped.
On hand Wednesday night was actor and Cheektowaga native Bill Fichtner, who did a great job of narrating the film for NFL Films. Fichtner has become more and more a part of the Bills family having recorded a Ralph Wilson stadium video for the team in 2014.
Also in attendance at the North Park was Luke Russert, son of the late Tim Russert. Russert was a huge Bills fan and let the nation know it often during his on-air duties on NBC. Luke Russert served as moderator of the discussion held on stage after the viewing with Kelly, Reed, Thomas and Tasker.
Niagara Falls also has a prominent role in the program with some great shots of both the American and Horseshoe Falls. Jim Kelly made a trip to Goat Island to be filmed with the Falls as a back drop and oddly enough it was his first time there.
Buffalo/Niagara Film Commissioner Tim Clark and Director of Operations Rich Wall were also instrumental in arranging many of the on-location shoots for the documentary including Kelly on Goat Island and Scott Norwood on the steps of Buffalo's City Hall. Clark also arranged the filming of Thurman Thomas and Bruce Smith at the home of former Disney Senior Executive Bryan Wittman.
NFL Films needed a proper setting for Thomas and Smith to view telecast highlights of the four Super Bowls, the first time either player had ever done so.
"Four Falls of Buffalo" airs on ESPN Saturday, December 12th at 9:30PM immediately after the Heisman Trophy presentation. It is well worth watching, even if you think you already know how it turns out.
Filed under: Koshinski's Korner
Tagged with: Andre Reed, Bill Polian, Bruce Smith, ESPN, Four Falls of Buffalo, Jim Kelly, Ken Rogers, Marv Levy, NFL Films, Steve Tasker, Thurman Thomas