Falconer high school won the 2019 Niagara Frontier Wrestling Officials Association tournament held at Niagara County Community College Saturday January 5th. The Golden Falcons, the top ranked Div II squad in Section Six, finished atop the 39 team tournament field with 205.5 points and one champion in Robbie Penhollow at 182 lbs.
Niagara Wheatfield, the top ranked Div I wrestling team in Section Six finished second with 181 points despite missing three wrestlers from their lineup. The Falcons had three individual champs in Justin McDougald at 132 lbs, brother Warren McDougald at 145 lbs and Josh Tibeault at 170 lbs.
Niagara Falls, ranked 2nd in Div I, finished right behind Wheatfield with 178 points and one champion in Willie McDougald at 138 lbs.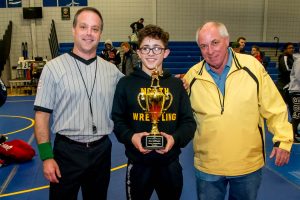 Cameron Catrabone from Williamsville North was named the Ilio DiPaolo Most Outstanding Wrestler Award after defeating previously undefeated Andrew Lucinski of Newfane at 99 lbs 2-0.
Grand Island's Adam Daghestani won the aggregate pin award and the 160 lb championship with a fall over Anthony Grimshaw of Webster Shroeder at 1:19 of the first period.
Team Final
Falconer 205.5, Niagara Wheatfield 181, Niagara Falls 178, Grand Island 165.5, Webster Schroeder157, Lancaster 146.5, St. Francis 142, Clarence 129, Newfane 118, Hamburg 99.5, Athens [PA] 98.5,Frontier 95, Amherst 91, Orchard Park 79.5, Eden 66.5, Tonawanda 63, Canisius 60, Williamsville North 57.5, East Aurora 56, North Tonawanda 48.5, Kenmore West 48, Southwestern 46.5, Depew 44.5,Starpoint 43.5, Akron 43, Lake Shore 40.5, Cheektowaga 40, Gowanda 27, Churchville-Chili 22,Jamestown 21, Medina 20, Lewiston-Porter 18.5, Sweet Home 16, Barker/Royalton-Hartland 14, St. Mary's of Lancaster 10.5, Lockport 7, Salamanca 7, Lackawanna 6
Outstanding Wrestler Award – Cameron Catrabone (WN)
Championship Final (1st)
Consolation Final (3rd)
Consolation Final (5th)
Consolation Final (7th)
Filed under: High School Wrestling
Tagged with: Falconer, high school wrestling, NFWOA, Niagara Wheatfield