An Associated Press story reported Thursday that Niagara Falls was a possible location for a new Buffalo Bills Stadium. Let me first write, I'm a native of Niagara Falls, I love the Falls and still live in Niagara County. That said, Niagara Falls could never support a stadium facility that would need to seat 70,000 people. The reason is simple, not enough infrastructure, especially transportation routes and suitable roadways to get that many people in and out of the city or County.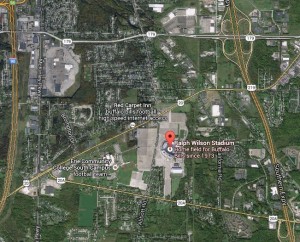 These aerial photos show Ralph Wilson Stadium with access to major highways like the 219 and the 90. Plus major roadways like 20 and 20A, Abbott Road and McKinley Drive are all used by Bills fans to get and out of the Stadium.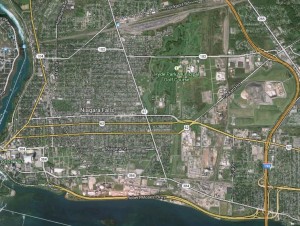 Looking at Niagara Falls, the only major highway is the 190 North, which has to cross a toll bridge on Grand Island. Then there is Niagara Falls Boulevard or Route 62, which becomes just a single lane north when it crosses Hyde Park Blvd. An alternate route to the Falls is also Walnut Avenue which is a one way 30 miles an hour residential street. Finally, to the North is the Robert Moses Parkway which is now in the process of being closed down due to public outcry.
All one has to do to see what the traffic congestion issue would be is refer to the Artpark Tuesday night free concerts. No individual concert had more than 20,000 people attend, but there was serious traffic congestion on both the 190 and Military Road hours before the concert and one of the reasons why they began charging to limit the size of the crowd.
Talk of Niagara Falls or Niagara County being home to a new state of the art NFL stadium begins and ends with elected officials who represent that region and sit on the Governor's Stadium Task Force Board. It makes for a great story to have a billion dollar stadium built in your backyard and have voters think you're pushing hard for it. Trouble is the cost of creating enough road work to accommodate traffic would be cost prohibitive.
The economic impact of a construction project that large and all of the sales tax associated with it's completion and regular use would be game changer for Niagara County and obviously Niagara Falls. It would be similar to the impact the Niagara Power Plant construction had in the late 1950's. The thought of that kind of economic boost is exciting, but more sizzle than steak.
Ironically I had this very conversation with a former Niagara Falls elected official last week. Once I explained the limitations in a driving to the Stadium from Erie County of Canada the former politician quickly understood the folly of the idea.
I would love to see Niagara Falls and Niagara County benefit from the Buffalo Bills playing in our backyard. Unfortunately I would never even bet a cup of coffee that it could actually happen.
Filed under: Koshinski's Korner
Tagged with: Buffalo Bills, Niagara County, Niagara Falls, Niagara Falls New York