BUFFALO, NY (
ilovechefs.com
) Mary Beth and Louis J. Billittier, Jr., owners of the popular
Chef's
Italian Restaurant, announce that everyone in Western New York can now enjoy Chef's
"On The Go"
with the rollout of their new food truck, unveiled
at a news conference Wednesday July 8th at 11a.m. in the Chef's Restaurant satellite
lot at 291 Seneca St., with invited guests, media, and sports celebrities.
The celebrities who assisted in the "reveal" with Mary Beth Billittier and mascot "Paisano" included former Buffalo Bill Lou Piccone, Former Bill and NFL Hall of Famer Joe DeLamielleure; Sabres star alumni Don Luce and Danny Gare; plus former French Connection Sabres star Rene Robert.
Lou Billittier commented, "Chef's has been a favorite in Buffalo for over 90 years.  Our family is excited to take our signature Spaghetti Parm, (where cheese is broiled on top of a plate of spaghetti) with favorites like salads and cannoli, on the road.  We will have a special "On The Go" menu, including special sandwiches to make our food truck experience unique."
At the news conference, Lou added that the truck will employ six more people to compliment the 100 plus employees now working at Chef's.  He added that one of the first stops will be at the Buffalo Broadcasters Media Night at the Buffalo History Museum July 21
st
; then off to the Orchard Park Country Club for a charity event on July 22
nd
, and a charity event for Buffalo Hearing and Speech soon after.  Lou said his team will take the truck to various events in Western New York when invited, in addition to suburban office parks.
Mary Beth added, "We are honored to join other trucks that offer their own unique cuisine.  Now, people can sample our sauce and Italian menu at Chef's downtown, or wherever the truck may be."
Menu items include: Chef's & Special Mix Salad; Soup; Spaghetti, Eggplant, and Chicken Parm; Meatball, Sausage & Chicken Cutlet sandwiches; Stuffed Shells; Spaghetti w/meat sauce, (gluten-free also); Boneless Chicken Cacciatora; Chicken Cutlet; Cannoli; pop, water, & coffee.
Some fun facts about the Chef's "On The Go" food truck.
  It's a new 36 ft. Freightliner with custom branding from M Design Vehicles. The stainless steel kitchen is 22ft. long, fitted with LED lights, and includes broilers to create the "parm."  The truck holds 100 gallons of water.  A speaker will play musi
c and announce orders.
Louis J. Billittier and his wife Ann acquired Chef's in 1954.  Mary Beth and Lou Jr., continue with the same famous sauce recipe, while continuing to generously donate to WNY charities. The restaurant has been in operation since 1923 at 291 Seneca St.  Chef's is open Mon. through Sat. 11a.m. until 9p.m. with a convenient drive-thru pick up window.  Chef's hosts banquets, and offers "Drop Off Catering."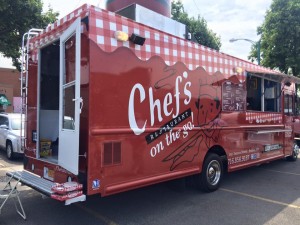 Foodies can follow where the Chef's
"On The Go"
Food Truck will be on social media- including @ChefsBuffalo on Twitter; Chef's Restaurant of Buffalo NY on Facebook; and
www.ilovechefs.com
.
Filed under: Local Headlines
Tagged with: Chef's restaurant, Don Luce, Food Truck, Lou Billittier Jr., Lou Piccone, Rene Robert