Louie Billittier, co-owner of Buffalo's famous Chef's Restaurant, had his head shaved Wednesday night by Sabres alumni Rob Ray to raise money for Roswell Park Hospital. In all Billittiere's efforts raised over $11,000 for the area leading cancer treatment center,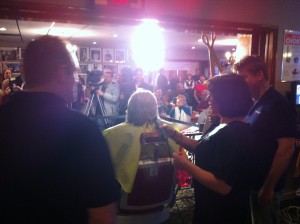 Billittier began his drive to raise funds for Roswell back in January when he decided to become part of Roswell's "Bald for Bucks" campaign. Louie recruited long time Billittier family friend Rob Ray to be the one to do the honors in front of a crowd of over one hundred family, friends and supporters.
"I have had several members of my family and friends battle cancer over the past few years and decided to do my part to help the fight," said Billittier. "I know I look like Uncle Fester from the old Adams Family show, but it was worth it to raise the much needed money."
"Louie asked me to do the cutting a couple months ago and I was glad to help out," said Rob Ray. "Louie and his family has done so much for this area and tonight is a great example of how many friends he has who just want to support his efforts."
The Goin' Bald for Bucks fundraiser began in Western New York when a cancer patient's brother vowed to keep his head shaved until his sister's hair grew back. Ten years after its conception, more than $1.6 million has been raised for cancer research and patient care programs at Roswell Park through Goin' Bald for Bucks, with 52 and counting schools and organizations across New York State. participating.
Filed under: Local Headlines
Tagged with: Bald for Bucks, Buffalo Sabres, Lou Billitier, Louie Billitier, Louie Billitiere Jr, Rob Ray, Roswell Park Hospital