World class ice climber Will Gadd had a busy Tuesday in Niagara Falls. Gadd spent much of the morning descending down the ice covered gorge face next to the Horseshoe Falls, plotting a course for an afternoon climb up. The 47 year old Gadd and 34 year old Sarah Hueniken became the first two individuals to scale the ice next to the Falls on Tuesday, January 27 and only a handful of people witnessed it. I happened to be one of them.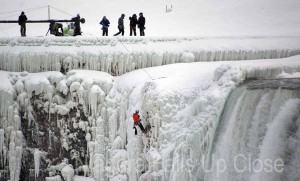 On Monday the Niagara Falls Review published a photo of an individual on the ice next to the Falls, but identified him as a member of law enforcement doing a training exercise. My site niagarafallsupclose.com has hundreds of photos of Niagara Falls so I went out Tuesday morning hoping to get a few of these "training exercises".
One look at Gadd going over the edge of the gorge Tuesday with a GoPro camera on his helmet and video camera crews all around tipped me off that this was no law enforcement training exercise. A Constable from Niagara Falls Ontario clued me in that it was Canada's own Will Gadd and it was being sponsored by Red Bull energy drinks. I posted the story, photos and video on Tuesday afternoon and the rest, as they say, is history.
The local television news stations, Buffalo News and Niagara Gazette all used the photos and video. I had requests from around the world to use the video and the story exploded! So much so that Red Bull was forced to release their own video and photos Thursday night instead of next week as they had originally planned. The images of Gadd making the climb from the numerous cameras Red Bull positioned are spectacular to say the least.
Having covered hundreds of athletes over the years I can't help but be impressed with the skills displayed by Gadd. At 47 years of age Gadd is able to scale the perilous frozen cliff of Niagara while being coated with an icy spray that had to be numbing. This was no staged stunt, Will Gadd used his years of experience and athletic prowess to make the 140 foot climb as the thundering water of Niagara brought huge chunks of ice over the brink just feet away.
Sometimes you just have a hunch and I'm glad I followed mine as I witnessed a triumph of man over nature in one of the most hostile situations imaginable.

Filed under: Koshinski's Korner
Tagged with: ice climb, Niagara Falls, Red Bull, Sarah Hueniken, Will Gadd