Normally Buffalo Bills Head Trainer Bud Carpenter shows up in the newspaper only if there is a photo of him attending to an injured player or if he's presenting the DiPaolo Scholarship Award of which he is President of. However, recently Tim Graham of the Buffalo News wrote a column stating that the new Bills coaching staff were unhappy with Carpenter's work and his methods and wanted to make a change.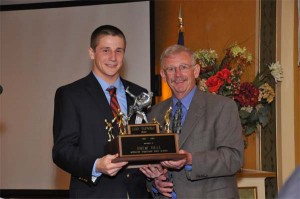 Tim Graham is an excellent writer and reporter and if he cited an undisclosed source within the Bill organization then I have no doubt that source actually exists. The fact that someone criticized Carpenter to Tim however does not necessarily make it gospel.
Graham had two stories in two days. The first reported that the new coaching staff had issues with long time members of the Bills front office, the second was aimed at Bud Carpenter. Both stories emanated from a disgruntled employee, or someone who just recently became a former employee. Inside the organization they have a pretty good idea of where and who the information came from. The complaints, true or not, are not news within the organization and reflect issues that Russ Brandon dealt with when he became team President.
That aside, Bud Carpenter's work as Head Trainer of the Buffalo Bills needs no defending. Carpenter and his staff were named the Ed Block NFL Athletic Training Staff of the year in 2007. It was Bud Carpenter and his team of Trainers who were instrumental in creating the process that allowed Doctor Andy Cappuccino in the immediate care and preventative treatment of Bills player Kevin Everett when he broke his neck six years ago.
Even before the Kevin Everett injury Bud Carpenter was one of the most respected Athletic Trainers in professional sports. Carpenter's  network of colleagues in the profession is legendary and his approach to treating Bills' players is not "old school".
No new technique or form of treatment in the profession would go unnoticed or ignored by Carpenter or his excellent staff. That staff includes Greg McMillen who was recently named Assistant Trainer of the Year by the NFL, Chris Fischetti and Shone Gipson.
If a member of Doug Marrone's coaching staff felt that Carpenter's routine of "electronic stimulation and icing" was out dated then it is news to Carpenter. I'm told the column by Tim Graham was the very first time Bud Carpenter received even a hint that Doug Marrone was not happy with his work. Considering the fact Marrone is known as a straight shooter I would guess Carpenter would have heard months ago that his approach to treating the players was not satisfactory.
I've known Bud Carpenter for over twenty years and know that there is a long line of players who have benefited from his experience and knowldege. That list includes current team Captain Fred Jackson who swears by Carpenter and his ability to help Fred recover from several injuries this past season and still compete each Sunday. In fact, Bud Carpenter is still sought out by former players who have had recent surgeries and are seeking his expertise.
The Buffalo Bills fired well respected Strength and Conditioning Coach in Rusty Jones in 2005 because then coach Mike Mularkey had a friend he wanted to add to the staff.  Jones was ahead of the curve and the NFL in his dietary expertise and scientific approach to building muscle and conditioning. The Chicago Bears benefited from the work of Rusty Jones for eight more years before he retired in 2013. Mularkey resigned at the end of the 2005 season.
Should Bud Carpenter leave the Buffalo Bills and seek work elsewhere I doubt his phone would stop ringing. There are a number of reasons why the Buffalo Bills have not made it to the NFL playoffs since 1999, Bud Carpenter and his staff are not one of them.
Filed under: Koshinski's Korner
Tagged with: Bud Carpenter, Buffalo Bills, Doug Marrone, Tim Graham