DON'T GET ME STARTED ON THE BILLS NEW OWNERS WITH THIS OPEN LETTER.
Dear Terry and Kim.
Congratulations on your reported purchase of the Buffalo Bills with the intent that they will remain in the City of Good Neighbors. You have epitomized the "Good Neighbor" attitude with your purchase of the Sabres; development of the Harbor Center and now owners of the Buffalo Bills.
You have now provided residents, fans and non-fans, that Buffalo and Western New York will continue to be elevated, through your actions, in the minds of non-residents. The people are expressing joy and thanks for this shot-in-the-arm to Western New York. Huge thanks and applause are being sent to you.
If there was one mis-step since the purchase of the Sabres, it was the departure of Pat LaFontaine, with no given reason why this very popular part of Buffalo Sports history was allowed to leave.
Let the following suggestion be received by you with the intent to continue energizing the people, fans and – equally important – provide the hope to the fans for future success on the field. It's important that fans make a rush for next year's season tickets, as well as selling out most all games this season to begin getting some of your money back.
It is very important for you to thank those front office people, but it is more important that you put someone in charge of the organization that will provide massive experience, stability and a mind that will develop a team into a big contender in a very short time, perhaps as early as 2015 and no later than 2016.
It would be important to bring in as President of the Buffalo Bills the one person who has been named Executive of the Year in the NFL many times during his career. Bring in the man who knows talent better than anyone else; still involved in analyzing teams and has a deep love (as yourself) for Buffalo and Western New York.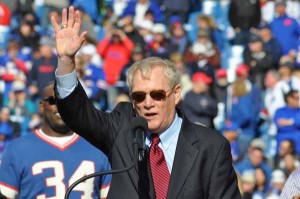 In short – bring in BILL POLIAN, immediately, AS PRESIDENT OF THE BUFFALO BILLS.
Yes, it will have a little impact on the current General Manager Doug Whaley; current CEO Russ Brandon but it is important to have someone like Polian lead this organization to the same greatness he did from the late 80s to the mid 90s – and four straight Super Bowl appearances.
When shelling out some $1 billion for the team, it is important to insure that fans will be excited by the purchase and would be ecstatic with the hiring of Bill Polian to be your right hand man in the organization.
Status quo won't do it. That's been evident for the past 14 years and especially since Bill Polian left. Polian is a franchise builder. Give him that job and you will not regret it.
Again, congratulations and thanks to you for purchasing the Buffalo Bills with the intent to keep them in Buffalo and let's look forward to great success with the team of Terry Pegula – Kim Pegula – and Bill Polian on Don't Get Me Started.
Sincerely,
Art Wander
Filed under: Don't Get Me Started
Tagged with: Art Wander, Buffalo Bills, Kim Pegula, Terry Pegula