I first met Jim Kelly in August of 1986 in Houston Texas at the Astrodome in the Bills locker room. Jim was not yet on the Bills roster and our first meeting was brief to say the least.
I was working for WKBW-TV and had been sent to Houston to track Kelly down and get an interview. Kelly and his brothers had kept me at bay on the telephone day after day as I tried to get an interview to ask if he was ever going to sign with Buffalo. That first meeting with Kelly in the Bills locker room was after a preseason game with the Oilers and was over before it began. Jim Kelly wasn't doing an interview that night with me or anyone else.
It has been well documented that Kelly did not want to come to the Bills after playing two years in the USFL for the Gamblers. Yet, Jim had no choice as the Bills held his rights after drafting him in 1984. Bill Polian was determined Kelly was critical to the future success of the Buffalo Bills.
After Jim was signed and his arrival in Buffalo became the biggest media event this town has ever seen, I finally had a chance to sit down and do a lengthy interview for a Buffalo Bills preseason special TV program. Again, Jim Kelly was in no mood for pleasantries and made it clear he did not appreciate how I had badgered him and his brothers weeks earlier.
For three years I was just another reporter to Jim and It wasn't until I co-hosted the Jim Kelly Show in 1989 with Ed Rutkowski that he began to lower his guard. I wasn't looking to be his best friend, it was just as a reporter my job was always easier if the subject was not defensive or suspicious of my intentions.
Don't get me wrong, I had some great interviews with Jim over those years, especially during the Super Bowl run, but when the interview as over, it was over. I did get invited to Jim's house several times after Bills games, but not personally by Jim so I never accepted. I didn't want to be identified as a Kelly groupie like one or two others in the local media.
So like everyone else, I watched as number twelve continued to impress and give every ounce of fight in him till the final second ticked off the game clock.
It was not until Jim Kelly retired in 1996 that our relationship began to become more personal than professional. Jim was no longer under the microscope and soon I was no longer on the air after taking over as VP/GM of the Empire Sports Network. Our relationship also changed due to the passing of the great Ilio DiPaolo.
When Ilio left us in 1995 Jim Kelly was in the forefront of the creation of the Ilio DiPaolo Scholarship and I was asked to be Committee Chairman by Dennis and Mike DiPaolo. Jim and I shared a great admiration and affection for Ilio and we worked together with so many others to keep his memory alive.
Over the past eighteen years I have not been in Jim's inner circle like his brothers, former Bills players and guys like Dennis DiPaolo, but I certainly consider us to be friends. Some of the best times I have ever experienced have been in his company and he has helped me out more than once.
One of those times was when he accepted my offer to be the Commencement Speaker for Niagara County Community College in 2010. Having a former football player as a commencement speaker for the graduates was not as well received as you might expect by a few of the "academic types" at NCCC, but Jim was unbelievable. Kelly received a standing ovation by the crowd of two thousand when he finished his fifteen minute speech. I had heard Jim speak many times before, but he was better than I could have ever hoped for.
Jim Kelly's message that day was that life will put barriers and obstacles in your way, but it's how you overcome them that matters. It wasn't just Jim's words that impressed the graduates, but how he related them to his own life experiences which included the loss of his son Hunter.
Jim Kelly has impressed me in the past with his play on the football field, his toughness, determination and generosity. Only Jim's heart is bigger than his shoulders, which have supported so many. Yes, I have seen Jim in tough and difficult situations, but today I saw first hand just how tough he really is.
Today I sat with Jim at his home to do an interview that will be distributed to numerous media outlets to get Jim's latest message out. Knowing that Jim was not up for a full-blown news conference I had offered to serve as an off-camera  "pool reporter" to allow Jim to speak to the camera about keeping the Bills in Buffalo. The interview had been postponed twice due to Jim's health and roller coaster ride with pain. When we arrived at his beautiful home it was made clear that Jim was not feeling well, but in Kelly form he did it anyway.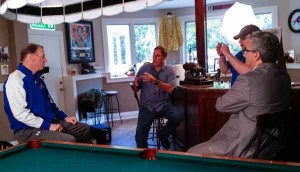 Portions of the interview will be made public on May 15th and I will allow Jim's words to speak for themselves, but it was the most difficult interview I have ever done and I have had some tough ones. To see Jim endure pain that I wouldn't even want to imagine and still get his message out left a deep impression on me. I have known this man for twenty-eight years and like so many times in the past he continues to be almost larger than life. Like Kelly's career with the Bills his personal setbacks and tragedies have been so public and deeply painful and yet there he is, carrying on with his family in the battle of his life and we have become a part of that.
After twenty-eight years I reflect back on a man who has experienced great victories, but greater defeats and still fights on. I can't help but be troubled, I can't help but be impressed, I can't help but be proud of my friend, Jim Kelly.
Filed under: Koshinski's Korner
Tagged with: Bob Koshinski, Buffalo Bills, Jim Kelly