Eleven new members of the Niagara Falls Sports Hall of Fame were inducted Saturday night at the Como restaurant in Niagara Falls. A crowd of over 300 were on hand for the inductions which included Fran Bax, Mark Cheers, Jack Dunmead, Bob Koshinski, Willie Moore, Jim Zakia, Gary Barrette, Jim Bradshaw, Oscar Colvin, Tony Genova and Shawn O'Leary. Joe Promowitz received "The Robert Eagler Memorial Award" given each year to a deceased candidate.
These individuals were voted in for their contributions to the community as outstanding athletes and or coaches, managers, organizers, officials, athletic directors, sponsors, sports promoters and volunteers. Eligible recipients must be 55 years of age or older to be considered. The organization, originally The Old Timers Sports Hall Of Fame, was established in 1968 and 290 members have been inducted.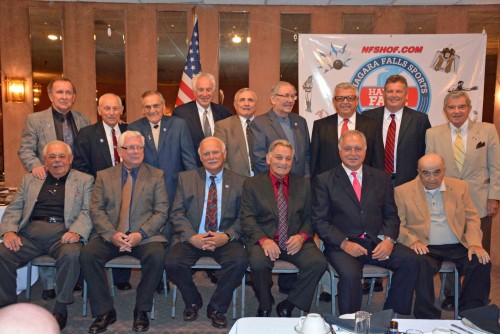 The NFSHOF officers are: President: Tony Quaranto, Vice President: John Goodfellow, Secretary: Mitch Adamshick, Treasurer: Pete Eodice,
Srgt. of Arms: Paul Smith.

Board Members: Dan Bazzani, Bill Clingersmith, Mike Eagler, Pete Marra, Chuck Orgodowski, Steve Panepinto, Frank Previte Sr, Joe Rizzo, William Ross, Guy "Tom" Sottile and Frank Scaletta.
Filed under: Local Headlines
Tagged with: Niagara Falls Sports Hall of Fame