Niagara County Community College Athletics
Niagara County Community College Athletics has seen a resurgence in recent years, upgrading the program with full-time coaching positions and improved facilities. The plan began six years ago under then Athletic Director Lee Wallace and is now under the leadership of Athletic Director Bob McKeown.
When appointed in 2012 Bob McKeown has called his position as Athletic Director his "dream" job. McKeown said his goal is to continues to strive for excellence both on and off the field for the Thunderwolves."What we are building here is more than putting athletes in fancy new uniforms," said McKeown." We are determined to improve the experience of competing for NCCC and in turn enhancing the reputation of Niagara County Community College Athletics within our region."
NCCC President Dr. James P. Klyczek, has been supportive of the plan to upgrade the program and the path it is on with McKeown. "With Bob we are sure to be able to push forward with the athletic enhancement plan that has seen campus wide support."
McKeown is no stranger to Niagara County Community College Athletics with over thirteen years of Junior College experience to the table. McKeown served as NCCC's Assistant Men's Basketball coach, Head Women's Basketball Coach, Head Softball Coach, and Sports Information Director. He is a decorated athlete and has been recognized as a member of the Athletic Wall of Fame at Starpoint High School and at Niagara County Community College.
The consensus is that Niagara County Community College Athletics is in good shape with alum Bob McKeown at the helm and the direction the institution is headed in. Niagara County Community College is located just ten miles from Niagara Falls and NCCC's Niagara Falls Culinary Institute.
________________________________________________________________________________
NCCC finishes 2nd at District III Wrestling Championships
Niagara County Community College finished second at Sunday's Region III/Northeast District I Championships hosted by Jamestown Community College. The Thunderwolves finished with 129.5 points, while first-place Mercyhurst North East had 132 points.
Finishing first and earning an automatic berth to the NJCAA Championships set for Feb. 26-27 in Council Bluffs, Iowa were: Kyle McGregor (133), Zach Colgan (157), Alex Kelly (174), Anthony Liberatore (184) and Marshall Taylor (285).
John Riena (141) and Cody McGregor (149) were runner-up finishers and will also advance to Nationals. Griffin Kent (197) came in third place and will advance as well due to a disqualification in his weight class.
Also, NCCC head coach Keith Maute was honored as Coach of the Year by his peers.
________________________________________________________________________________
———————————————————————————————————————————–
Niagara County Community College Athletics Wrestlers Claim 18th Regional Championship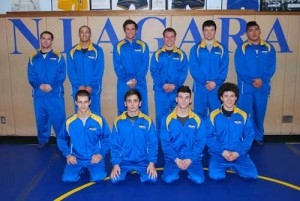 The Niagara County Community College Athletics Wrestling Team won its 18th Region III championship February 10th, qualifying all ten wrestlers and claiming six Region Champions. The Thunderwolves' grapplers will be competing at the NJCAA nationals Feb. 21st-23rd in Desmoine, Iowa. Below are the individual wrestlers and their place finishes at the Regional Championships:
125 Barney Prince (Morrisville Eaton , NY) placed 2nd is ranked 6th in the country
133 Lance Compton (Attica, NY) placed 2nd and is currently ranked 12th in the country.
141 Brian Galuski (North Rose Wolcott, NY) placed 3rd
149 Kevin Strong (Frewsburg, NY) placed 1st beating the returning region MOW in the finals. He is ranked 9th in the country
157 Irvin Buck (Niagara Falls, NY) placed 1st earning MOW honors. Buck is ranked 2nd in the country.
165 Kris Schimek (Pine Valley, NY) placed 1st, Kris is ranked 1st in the country.
174 John Brabon (Lyndonville, NY) placed 1st. John is ranked 9th in the country.
184 Dustin Moss (East Syracuse Minoa, NY) placed 3rd losing a tight match to the 5th ranked kid in the nation.
197 Gunner Thomas (Starpoint, NY) placed first
285 Max Antone (Niagara Wheatfield, NY) placed 1st
Most Outstanding Wrestler award winner Irvin Buck.
---
Todd Faddoul was named Niagara County Community College Athletics Head Men's Lacrosse Coach by Director of Athletics Bob McKeown, for the 2013 season.
Faddoul was brought to NCCC with a wealth of knowledge, dedication and winning experience. He came to NCCC after serving two seasons as the Head Men's Lacrosse Coach at North Tonawanda High School, from 2011-2012. Prior to coaching at North Tonawanda High School, Faddoul served eight seasons as Head Men's Lacrosse Coach at Niagara Wheatfield, from 1994-2002.
After a successful coaching career, Faddoul left Niagara Wheatfield High School after the 2002 season to start a career in Law Enforcement and has been with the Niagara Falls Police Department for ten years.
Faddoul graduated from Canisius College in 1998 with a bachelor's of science degree in Physical Education. He also attended Nazareth College of Rochester, NY in 1991 and was associated with the Men's Lacrosse Program.
A native of Niagara Falls, N.Y., Coach Faddoul resides in Niagara Falls, NY. with his wife Jillian and two children, daughter Amelia and son Brodie.
_______________________________________________________________________________________________________
Four Basketball Games Produced Five Winners Saturday in Sanborn
By Doug Smith
While Grand Island, Pioneer, Olean and Southwestern all advanced to playoff finals, no school had a better day than Niagara County Community College, playing host to post-season scholastic basketball for the first time ever.
Athletic Director Bob McKeown "made a few calls" when word got out that Section VI might be in the market for a new and different venue, and whatever N-Trip promised the sectional shot-callers, it made good in the grandest of fashions.
The gym was gleaming, glowing in blue and grey like a Civil War museum. Seating, like Goldilocks' porridge, was just right, room for all but still cozy enough to make it feel crowded. Parking was plentiful and reasonably close by, a blessing in view of the day's dreadful winds, and best of all, free.
And when a scheduling glitch left the seat in front of the microphone vacant, who better to step in than McKeown, with an admirable broadcast history.
It didn't hurt, either, that reporters and photographers were greeted like visiting royalty. Frankly, it doesn't always happen that way.
The economic impact probably was negligible, although a few savvy visitors may have toddled down to the nearby "Res" for gasoline. Schimschack's dining schedule probably wouldn't accommodate most one-game fans, a pizza crowd, anyway.
But the biggest benefit of all was the opportunity for N-Trip to showcase itself for far-off visitors, who might be inclined to size up the remote locale and write it off as "some hick school." N-Trip had to have made a lot of converts, and that alone was worth the effort.
We can hardly wait for chapter two on Tuesday. It was a great day for Niagara County Community College Athletics.
Respond to Doug Smith via pollyndoug@hotmail.com